Manga Review: Millennium Snow 3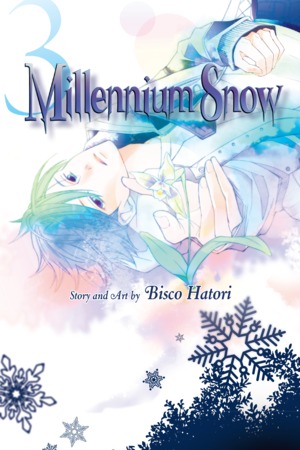 After a long hiatus, new volumes of Millennium Snow are coming out. The mangaka behind it, Bisco Hatori, is best-known and beloved for her Ouran High School Host Club series… and it was because Ouran took off that she had to put Millennium Snow to the side for a while.
So after the first two volumes of Millennium Snow, there was a ten-year break before we got volume three. There are some noticeable differences in art and how the story feels, but it's still a welcome continuation of the series.
Chiyuki's heart problem meant she probably wasn't going to make it to her next winter, but when she was able to suck the blood of 18-year-old vampire Toya, she healed up. For now she is healthy, and she knows that vampires live for 1,000 years, and so do their mates. Will she and Toya be together for 1,000 years?
Toya isn't much of a vampire: he hates blood and instead gorges himself on people food, even though it's not good for him. He also is clearly in love with Chiyuki, but is too clueless to know how to act around her. Things are further complicated by the fact that another young man named Satsuki also has feelings for Chiyuki—and, by the way, he's a werewolf. Toya and Satsuki don't exactly see eye-to-eye: they hurl insults at each other like "fangboy."
Volume three continues to have the whimsy and humor from earlier volumes, but it also feels more serious. One really neat thing is how Hatori borrows heavily from Japanese mythology for her stories here. The first story taps the legend of Yuki-onna, a woman from folklore who steals the lives of people on freezing nights. After that we move on to the legend of Kotodama, or "word spirit," and a legendary creature that eats words. Words have power and can impact reality here, and Bisco adds a nice twist by using this belief in a story about cyberbullying.
The art has a cleaner, smoother feel than earlier volumes, and Bisco pops up repeatedly in side panels to describe how she got back on the Millennium Snow bandwagon and her thoughts about the series and picking it back up. The volume finishes with a chapter from 2002 that features Toya's adorable bat, Yamimaru. There will be four volumes in all for this series, and it's good to see it coming back.
Story & Art: Bisco Hatori
Publisher: VIZ Media