Kill la Kill Cafe Report
Like it, hate it, or don't really get it, you're probably aware of the concept of the "pop-up" store. Whether in restaurant, cafe or retail form, it's a limited-time establishment for selling seasonal goods, testing out the waters before opening a permanent shop, or basically doing something tied into a certain event.
In Tokyo, the whole pop-up thing has expanded into the world of the maid cafe, with various established cafes temporarily overhauling their menus and themes for tie-ins with currently airing or upcoming series. The success of these pop-up maid cafes, of course, depends in some part on the popularity of the show or manga they're collaborating with.
So it wasn't a huge surprise, at the new pop-up maid cafe based on the mega-hit Kill la Kill, to find a two-hour line waiting for us.
The Kill la Kill Cafe, which is set to run until April 6th, is hosted in Akihabara in a cafe called, when it's not tied up with any collaborations, Cure Maid Cafe. Just off Akihabara's main thoroughfare, Chuo Dori, it's a decent-sized space, but on the sixth floor of a non-descript building, it's definitely a place you hear about from word of mouth rather than wandering in off the street. Cure Maid Cafe are no strangers to the collaboration game, having previously done tie-ups with Steins;Gate, Code Geass and Rozen Maiden, to name a few.
As is customary for these types of events, the Kill la Killization of the cafe comes in two forms: art and food. The walls are covered with Kill la Kill concept art, storyboards and illustrations – nothing hugely impressive, but fun to look at nonetheless. The background music is a loop of the show's opening and ending theme songs, which might be repetitive and annoying if they weren't some of the coolest songs around.
The other fun thing about these collaboration cafes is seeing what kinds of food and drink they come up with. The menu at the Kill la Kill Cafe includes the "decked-out family croquette plate," which ostensibly refers to the episode in which the Mankanshokus were able to afford real, sanitary food. The Tri-City Schools Raid Trip is immortalized in a dish with items from Osaka (takoyaki), Kyoto (pickled vegetables) and Kobe (beef, natch). And the menu also includes Mrs. Mankanshoku's mystery croquettes, though they're apparently too dangerous to actually order.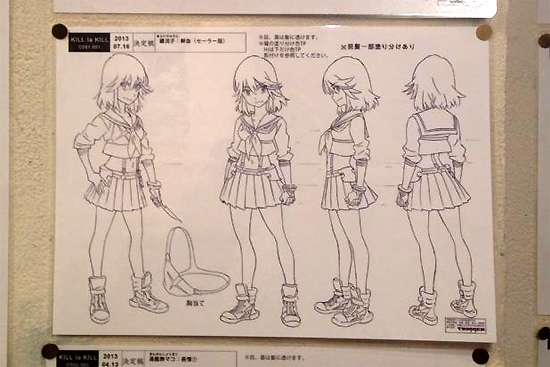 Drinks are named after various characters in the series, including a whopping 1,000 yen ($10) Kiryuin Ragyo that the cafe warns is "incredibly sweet, so please enjoy slowly." We decided to go with the drink based on Nudist Beach member and homeroom teacher Mikisugi Aikuro, which tasted… nude?
Unfortunately, when we visited, none of the staff were doing any Kill la Kill cosplay, which seems like a wasted opportunity.
But on the whole, the Kill la Kill Cafe was worth the wait. We especially dug the menu, which offered a lot of items directly inspired by the series and was a step above of most of these collabo cafes (it helps there's so much food in the show).
We suspect this isn't the last pop-up tie-in Cure Maid Cafe will do by a longshot, so look for more from these guys here in the future.