Keisuke Itagaki Illustrates Japanese Rambo: Last Blood Poster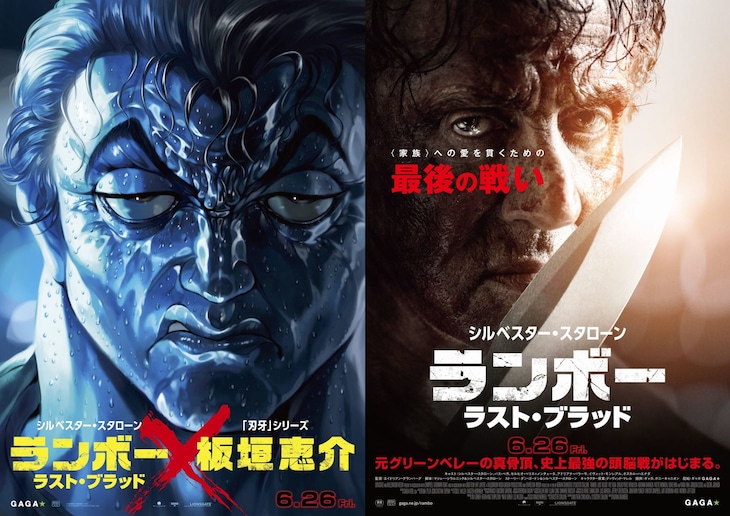 Rambo: Last Blood was released last September in the US, but what with this, that and the other, it's just getting set to make its debut in Japan.
Alongside the standard poster, featuring a still of Sylvester Stallone, comes a distinctly Japanese poster from Keisuke Itagaki, the creator of Grappler Baki.
Itagaki's poster will be featured at theaters throughout the country starting June 12, where it will ostensibly creep out many children.
Man, we'd love to know what Stallone thinks of Itagaki's interpretation of Rambo.
Rambo: Last Blood hits Japanese theaters June 26. Many Japanese theaters are currently reopening at half capacity and taking other measures to prevent the spread of COVID-19.
Itagaki's Baki is currently being adapted into a Netflix anime series. Here's how the 'flix describes it:
While martial arts champion Baki Hanma trains hard to surpass his legendary father, five violent death row inmates descend upon Tokyo to take him on.
And here's how Lionsgate describes Rambo: Last Blood:
Almost four decades after he drew first blood, Sylvester Stallone is back as one of the greatest action heroes of all time, John Rambo. Now, Rambo must confront his past and unearth his ruthless combat skills to exact revenge in a final mission. A deadly journey of vengeance, RAMBO: LAST BLOOD marks the last chapter of the legendary series.
Source: Comic Natalie