Japanese Fans Rank The Best Fall 2015 Anime So Far
We're a month into the fall 2015 season, and anime polling site Charapedia has asked its readers: after a month, what series are you still keeping up with?
Without further ado, let's find out what Japan is thinking!
20. Fafner in the Azure: Exodus
19. I Was Abducted by an Elite All-Girls School as a Sample Commoner
18. Mobile Suit Gundam: Iron-Blooded Orphans
17. Utawarerumono
16. The Asterisk War: The Academy City on the Water
15. Aria the Scarlet Ammo AA
14. Heavy Object
13. Lupin III
12. Attack on Titan: Junior High
11. K Return of Kings
10. YuruYuri San Hai!
9. Seraph of the End: Vampire Reign
8. Chivalry of a Failed Knight
7. Beautiful Bones: Sakurako's Investigation
6. Owarimonogatari
And the top five…
5. Noragami: Aragoto

4. Haikyu!!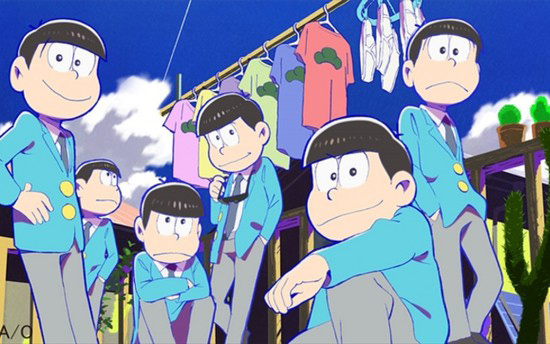 3. Osomatsu-san

2. One Punch Man

1. Is the Order a Rabbit??
Some reader comments:
Osomatsu-san
Totally different than what I was expecting (in a good way). It'll be hard to get bored with this almost worrying amount of funny stuff.
Hilarious! I really like the parts that remind me of Gintama. I'm totally into it!
The voice actors are great! It's just stupid and funny! There's nothing you can do but laugh.
One Punch Man

I was looking forward to this long before it aired, and I'm happy to say it's hilarious.
I love how how exhausted he looks even though he's the hero. That and the gags are just great.
I'd been waiting for a comedy like this.
Is the Order a Rabbit??

If you like the characters, this is a very soothing series. I'm really hoping for a third season.
Cute! I don't want it to end! Soothing.
OUSA readers, we want to know! What are you watching and why?
Source: Charapedia
---
Related Stories:

–
Japanese Fans Rank Their Favorite Summer 2015 Series
– Japanese Fans Name Most Anticipated Fall 2014 Anime
– Japanese Viewers List Top Summer 2014 Anime
– Niconico Users Rank Summer 2014 Anime