Hunter x Hunter Cast Returns to Voice Real Escape Game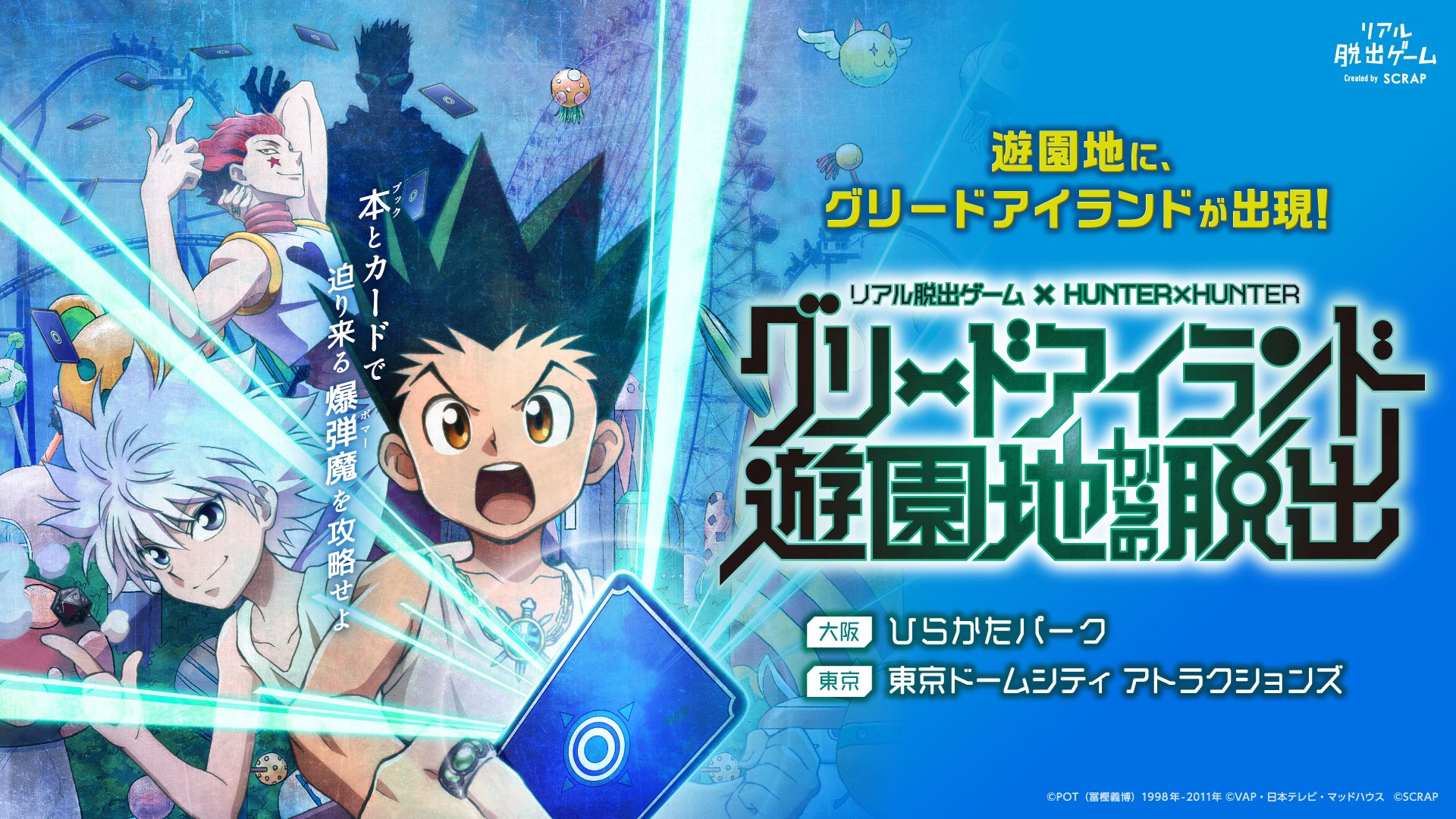 Last month we posted about a Hunter x Hunter real escape game, and the latest update has the original Hunter x Hunter cast returning to reprise their roles for the event. That's right, if you loved the cast in the anime adaptation, you're going to love hearing seven of them read newly-recorded lines as part of the game.
The Hunter x Hunter real escape game comes from event planning company SCRAP, which put together an adventure called Escape from the Greed Island Amusement Park. The Hunter x Hunter cast members participating will be featured in the game's opening and ending movies, as well as some event scenes that pop up throughout the adventure. It's not all rehashes of previous events either; one of them includes a conversation between Kurapika and Biscuit that never happened in the anime.
Here are the Hunter x Hunter cast members that have been confirmed so far:
Gon Freecss – Megumi Han
Killua Zoldyck – Mariya Ise
Kurapika – Miyuki Sawashiro
Hisoka Morow – Daisuke Namikawa
Biscuit Krueger – Chisa Yokoyama
Razor – Takaya Kuroda
Genthru – Hiroyuki Yoshino
Here's the commercial that went along with the real escape game's initial announcement:
Escape from the Greed Island Amusement Park will be open from September 19 to November 29. This follows a change of the original plans to hold the escape game at Tokyo Dome City Attractions this month, which were affected by COVID-19.
The Greed Island escape game will feature an original story that takes place within the arc of Yoshihiro Togashi's manga and its anime adaptation. Participants will have to challenge Greed Island Fest as Hunters, solving mysteries and quests at special booths throughout the amusement park. Advance tickets go on sale on August 8.
Now, all we need is to get a real escape game like this somewhere outside of Japan. Come on, once things are safe again, let's set up our own escape from Greed Island! Even if the Hunter x Hunter cast isn't involved… we can all do the voices ourselves.
Via Crunchyroll