Happy Halloween, Here's Anime Jason Voorhees-chan
In the spirit of the season, Kotobukiya has just released a gorgeous PVC figure of Friday the 13th's slasher Jason Voorhees — except scary has been traded for sexy. This Jason-chan (let's call her Jason-chan) has the signature hockey mask up on top of her head and turned away a bit so you can have a good look at her unblemished, unbloodied bishoujo face.
This is part of a long and successful line from Kotobukiya– actually called "Bishoujo" (beautiful girl)– in which Japanese artists and sculptors remake Western characters in their own style. After a lot of success with statues of Marvel superheroes, Koto has branched out to "Sexy Ghostbuster," "Sexy Man In Black, But A Girl" and even "Sexy, But Recently Retconned, Star Wars Extended Universe."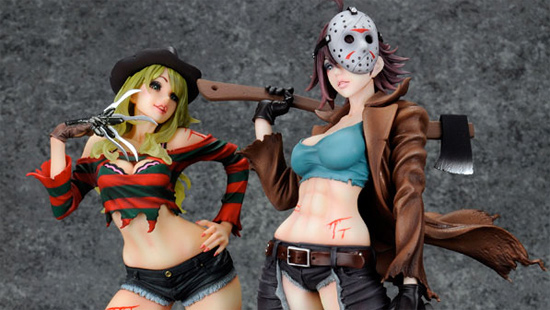 Is there, then, a more Halloween thing than a sexy PVC figure of Jason Voorhees? I'm not sure, but the companion piece Bishoujo Freddy Kreuger — see, these figures are based on Freddy Vs. Jason!– is already out. There is, so far, no word of a 4-panel manga series where Freddy-chan and Jason-chan take a break from slaughtering teens to intently discuss which way a chocolate cornet should be eaten.
Source: Amiami
---
Related Stories:
– New figma Line Doesn't Move?
– One Piece Comes to Life in Stop-Motion Short
– Bandai Super-sizes Capsule Toys to combat New Sales Tax
– Life-Size Goku and Luffy Statues Battle in Japan
– 3D Printed Final Fantasy VII Figures Keep the Low-Poly Look