Gravitation: The Complete Collection
Shuichi is a young singer/songwriter in want of a muse to assist the launch of his professional career. Yuki is a brooding novelist who needs someone to help him overcome his troubled past. Their prayers are answered when they find each other, even though their meeting consists of Yuki insulting Shuichi's talent for writing lyrics. And then they fall in love.
Yuki's family is against it. His Buddhist temple will have nothing to do with a marriage between the two, no matter what Shuichi does to persuade the priest. The press is all over them, wanting dirty secrets to sell their tabloids. Shuichi screams to the rainy night, "Why is it wrong to want to be with the person I love?" Don't worry, they'll be together in the end—but before that there will be plenty of things getting in their way.
They're certainly an example of opposites attracting. Shuichi is a peppy, ADHD crybaby and Yuki is a grump who passes judgement like Simon Cowell. Okay, in real life they probably wouldn't make it based on their personalities, but in the show they make a cute couple.
Gravitation is a musical series, often concentrating on Shuichi's band, Bad Luck. It's also a romantic comedy and one that is, yes, actually funny. It's so easy for romantic comedies to be cheesy or corny, but I don't feel that at all here. In fact, Gravitation is a really strong series, tightly written with likable, understandable characters. Besides hyper Shuichi and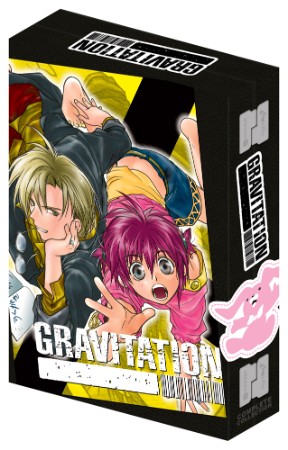 bad-tempered Yuki, there's a colorful cast of characters including a singing sensation who isn't quite right in the head and a manager who likes his gun a little too much. This series has its humor, but it also has drama to give it extra depth. It comes together really well in the end, tying up the loose threads and making it all work.
Right Stuf is rereleasing Gravitation and this boxset has all thirteen episodes, plus the two-episode OVA. The OVA isn't as strong as the series, but it has plenty of zany humor to keep it entertaining. In it, Shuichi needs to come up with new lyrics but can't because he's in a slump. Why the slump? Because Yuki's being cold (however, is the guy ever really warm?). Though there are some differences between the series and the OVA (check animation and flashbacks), it's still a nice bonus for fans of the series. Shuichi and Yuki gravitate to each other despite their differences, but it's easy to see why fans gravitate to this series.
Distributor: Right Stuf
Available: Now
Rating: 16+