First Visual for Kuroko's Basketball Stage Play Revealed
Feast your eyes, Kuroko fans.
The first visual for the upcoming Kuroko's Basketball stage play, Kuroko's Basketball The Encounter, has been revealed. And yeah, they kept the blue hair.
Kuroko's Basketball The Encounter, which premieres at Sunshine Gekijo in Tokyo in April and runs for about three weeks, stars as Tetsuya Kuroko Kensho Ono, who also plays Kuroko in the anime.
Taiga Kagami will be played by Yuta Asato, and Daiki Aomine will be played by Shota Onume.
Comic Natalie published some comments from the cast and crew:
Kensho Ono – Tetsuya Kuroko:
"Whether in the anime or on the stage, I'm very happy to be able to play the role of Kuroko. There are many people with strong affection for Kuroko's, so I want to live up to that on stage."
Yuta Asato – Taiga Kagami:
"I still can't believe I get to play Kagami. What an honor! But if it's really happening, the first thing is to train my body and become one with the character Taiga Kagami. While treating the original with respect, I'm going to work hard with Ono-kun to show the power of Seirin High School!"
Shota Onume – Daiki Aomine:
"The first thing I thought when I heard I was going to play Aomine was, 'I have to become a monster.' From now until the premiere, I'm going to work hard and not waste a day so viewers will think 'Aomine was really good.'"
Source: Comic Natalie
---
Related Stories:

Kuroko's Basketball Promo Teases OVA Episode
Special episode 75.5Q comes with volume 9
When volume 9 of the Japanese Blu-ray/DVD release of the third Kuroko's Basketball anime season, it will come packing a special bonus OVA episode...

Kuroko's Basketball Film Announced
Popular basketball series to hit the big screen
An animated Kuroko's Basketball film is in the works.
That's the word from the official Kuroko's website, following an event on Sunday in which several of the…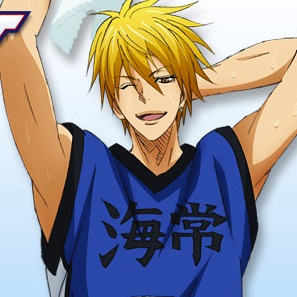 Stay Fresh with Kuroko's Basketball Deodorant
Premium Bandai unleashes themed scents
When dressing up as your favorite anime and manga characters just doesn't cut it, sometimes you gotta go the extra mile and smell like them…