Chinese Animators' Pay Almost Triple Japanese Animators'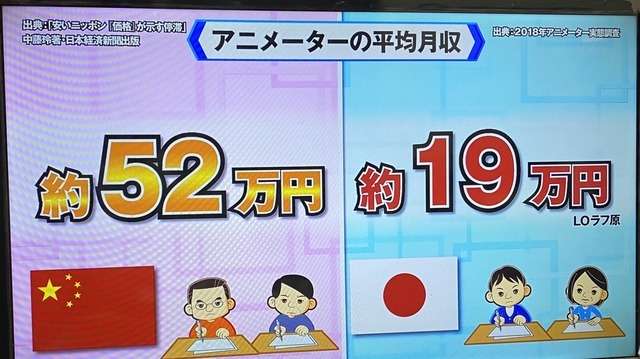 Another week, another depressing story about the Japanese animation industry! Okay, this info isn't particularly new, but it's making the rounds again thanks to being shared on a Japanese TV show.
The show compared the average yearly salary animators in China and Japan. On the left, we've got China, with about 5.2 million yen a year (about $40,700 at our current bizarro exchange rates).
Meanwhile, the average Japanese animator? 1.9 million yen, or about $14,870.
That means the average animator in China makes about 2.7 times what the average Japanese animator does.
Meanwhile Jun Arai, a veteran key animator, chimed in on Twitter to say:
Chinese animation companies really do pay more than in Japan. Last year, when I was asked to supervise the production of a animation by a major Chinese animation company, the price was up to 100 times higher than the Japanese market price.
That's… a lot more. It's no wonder that more Japanese animators are taking on Chinese projects, with some even moving to China (though it should be noted that the linked story was from the pre-COVID era).
中国のアニメ会社は本当に
日本より高額支払いですよ。
去年中国の大手アニメ会社の作品の
作画監督依頼を請けたら、
日本の相場の最大100倍以上の額でした。
他にも中国の物数件受けましたが
全部日本より高額で平均数十倍位の額でした。 https://t.co/MB8t0HbYa2

— 新井 淳(ver.4) (@arasan_fourth) May 22, 2022
Source: Otakomu