Baki The Grappler Gets Exhibit with Life-Sized Statues and Bloody Nails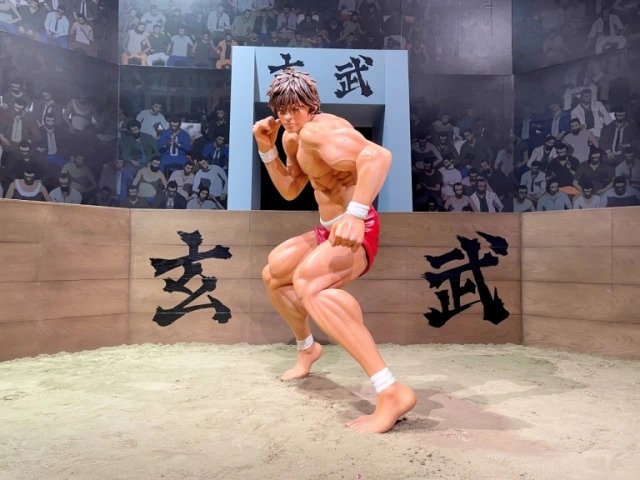 Everything about the Baki the Grappler franchise is massive, from its massive fanbase to its massively muscled men. So why not give it a massive exhibition for the series' thirtieth anniversary?
The exhibit opened this past weekend at the Tokyo Dome City complex. As people step in, they first get to see 180 pieces of art from none other than Keisuke Itagaki, the mangaka who started it all. The art consists of important scenes from the manga.
But it's not just re-showing manga panels. There are life-sized character statues, including ones of Baki Hanma, his half-brother Jack Hanma, his father Yujiro, and Mitsunari Tokugawa. There is also a statue of Biscuit Oliva, but he's not life sized.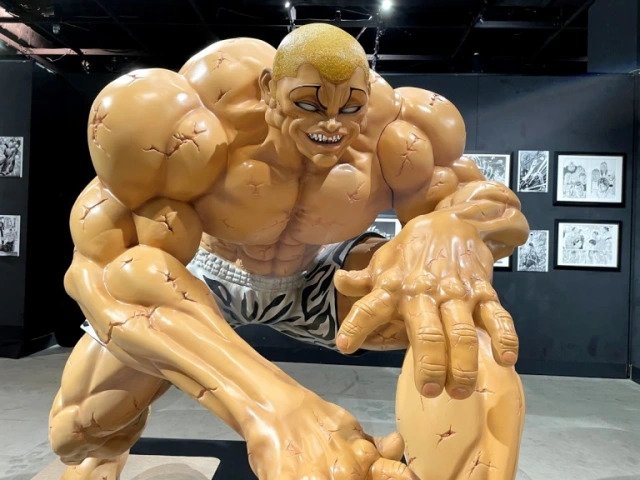 You can find the Baki statue at the octagon ring of the Underground Arena, because all that's been recreated as well. The crowd is mostly displayed in paneling, though this is where you get to see the life sized Mitsunari Tokugawa statue, watching from the sidelines. And as an extra touch of something dramatic but also subtle, you can see bloodied fingernails and teeth in the dirt around Baki.
The exhibit also has the Hanayama syndicate office, the championship belt, a model of Baki's house, and Kaiou Retsu's arm in a jar. And to finish the exhibit off, there is additional artwork.
The exhibit is being hosted by Gallery AaMo, and will only be around until April 17.
Crunchyroll gave this description of Baki the Grappler:
"Baki the Grappler or Grappler Baki … is a manga and anime series by Keisuke Itagaki. It was originally serialized in the Weekly Shōnen Champion from 1991 to 1999, lasting 42 collected volumes. It was followed by two sequel series, New Grappler Baki … (serialized from 1999 to 2005) and Baki: Son of Ogre … (which began in 2005 and currently in serialization).

The 24 episode anime aired in Japan between January 8, 2001 and June 25, 2001. A second 24 episode series called Grappler Baki Maximum Tournament was released on 22 July 2001. The story revolves around Baki Hanma and his quest to proclaim himself as the strongest grappler in the world, thus taking the title from his father. Baki also fights to gain the trust of his overly psychotic mother. The OVA was released by Manga Entertainment in Australia and the UK and previously released by Central Park Media in the U.S."
Source: SoraNews24
____
Danica Davidson is the author of the bestselling Manga Art for Beginners with artist Melanie Westin. She is also the author of its upcoming sequel, Manga Art for Everyone, and the first-of-its-kind manga chalk book Chalk Art Manga, both illustrated by professional Japanese mangaka Rena Saiya. Check out her other comics and books at www.danicadavidson.com.