Akihabara DJ Event AniCrush Marks First Anniversary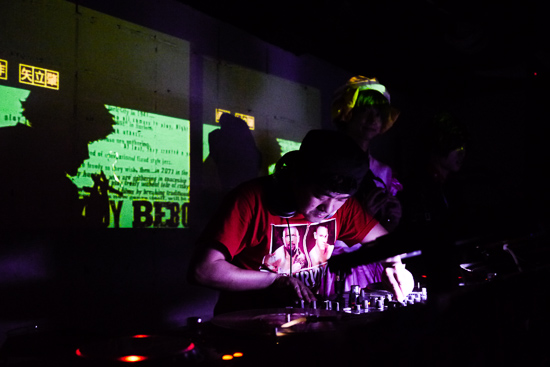 photo by Matt Schley
Sunday, July 27th, 2014, Tokyo: I get off the train at Akihabara station, exiting not at Electronic Town, the usual otaku departure point, but Showa Street, a downright normal-looking road lined with offices and convenience stores. I double-check Google maps and head down a nondescript alleyway, finding my destination – an underground club called Mogra – thanks only to the bouncer standing outside who waves me over, checks my ID and sends me downstairs.
The scene downstairs is anything but nondescript. A hundred-odd fans of anime, video games, idol music, and whatever other Akiba-kei music you can think of are dancing, jumping, fist-pumping and generally freaking out to an chiptune version of the Attack on Titan theme song. Some are in cosplay, many are twirling glow-sticks, one (who I find out later is a DJ at the event) is even wearing a doller mask, passing out candy stored in her hair bobs.
No, this scene is definitely descript.
This scene, by the way, is AniCrush, an international-themed Akiba-kei (Akihabara style) music event run by French-American Xavier Bensky. It's the fourth volume of the event (or fifth, if you count their volume 0 pre-launch party) and marks their first anniversary.
photo by Matt Schley
For Bensky, AniCrush is the natural progression in his interest in anime, Akihabara and Japanese net culture. Moving back and forth between American and Japan since the early 90s, Bensky relocated to Tokyo permanently in 2006, right when late-night anime like Haruhi and Lucky Star were taking off, propelled by fans on Niconico Douga and other social media sites. This led to an explosion in real-life anime song (anisong) events combining fashion, anime and electronic music in trendy spots like Harajuku and Shibuya. This was no longer the cool kids versus the nerds: suddenly, the nerds were the cool kids.
Meanwhile, Bensky was getting involved in the scene, consulting on various projects centered around Akiba-kei and anisongs, including 2012's J-Geek, a dance party catered specifically toward foreigners. Though J-Geek had a certain amount of success, fewer foreigners participated than had been hoped, and J-Geek was shuttered after three events.
Bensky's takeaway from J-Geek, and the philosophy behind AniCrush: it's gotta be authentic.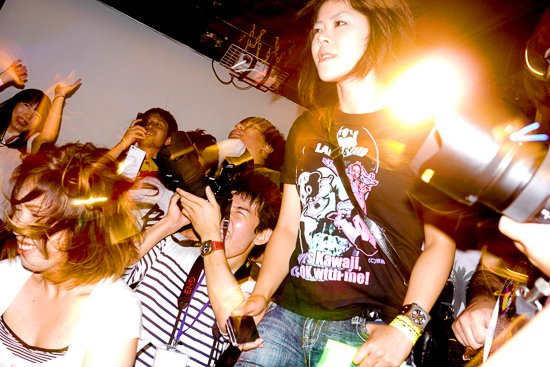 photo by Matt Schley
Foreign anime and subculture fans living in or visiting Japan, he says, don't want to be catered to. "We want an authentic experience, to discover something first, to go where no one's gone before."
To that end, AniCrush isn't for foreigners, specifically – it takes place at Mogra, the same venue as most anisong events, and brings in DJs and VJs from anisong scene – but it strives to be accessible for international attendees, with all the information online in both Japanese and English, bilingual staff, and a 500 yen discount for non-Japanese passport holders. And like all Mogra events, AniCrush is streamed live online so fans outside Tokyo can participate virtually.
Finally, AniCrush tries to feature DJs and live artists who come from outside Japan. Volume 4's live performer was Ladybeard, an Australian who cosplays as Sailor Moon and other female characters and belts out heavy metal versions of anime theme songs.
"Some people thought that was an unconventional choice for an Akiba-kei event," says Bensky, "but he was a hit."
photo by Matt Schley
Bensky's next goal: take the show on the road. AniCrush hopes to appear at a North American anime convention in the not-too-distant future, giving American con-goers a real-life Akiba-kei event experience. There are also plans to do pop-up events in smaller Japanese cities, tying in with a recent interest in otaku tourism. Bensky sees this as a way to introduce foreigners to parts of Japan beyond Tokyo.
Of course, AniCrush will also continue in Akihabara, with volume 5 planned for this fall.
Bensky points out that AniCrush isn't a new idea, really: anisong events go back to at least the mid-2000s, or as far back as the 80s if you count "cosplay dempa" parties centered around Comiket and other otaku events. These days in Tokyo there's some kind of anisong party happening almost every night, "but how great would it be if more foreigners knew about them?" he asks. That's the point of AniCrush – from Akiba to the world.