You Can Visit 1999 Otaku Nostalgia Room in Virtual Reality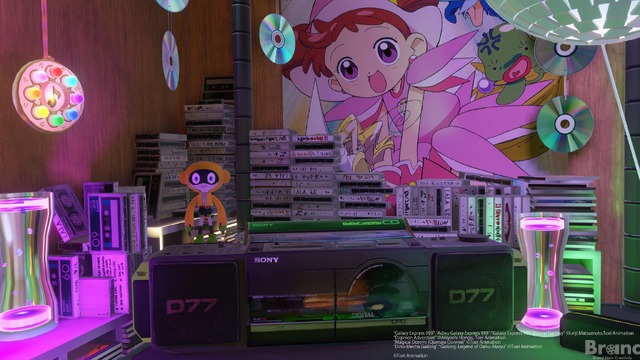 Virtual reality can take you to different worlds, but it can also take you back in time. Toei Animation subdivision Onn'on Studios teamed up with Sony to create a virtual space titled "Nostalgia 1999." It can be found on VRChat.
The nostalgia is specifically otaku nostalgia for 1999. And specifically for July of 1999, if you really want to pin down the date. In the room you can see a Ojamajo Doremi poster, cassette tapes, and other items to give it the feel of being in a real otaku's room in 1999. (Though, to be fair, it's an otaku's room who really likes Toei and Sony, as those two companies made sure to put plenty of their merchandise in the room.)
Anyone visiting the room in virtual reality has the ability to zoom in and look more closely at the various objects. It's listed that some of the items will activate to the touch, though it didn't specify which items or what they would do.
Speaking on behalf of Sony Music Solutions, Tsuneyuki Matsudeira remarked on how lots of people who are now in their 30s and 40s still have very strong and clear memories of Toei Animation anime that were released in the 90s. He took the time to plug how many audio and visual products from Sony impacted people's lives at the time.
But that's not all! While not officially saying anything, Matsudeira tantalized readers with the possibility that actual events may take place in the 1999 Otaku Room. While we don't know what those events might be, we were told that Sony intends to put a Trinitron TV in the nostalgia room so that people can go into virtual reality 1999 to watch anime there. One would assume it would have to be limited to anime that would have been available in that year.
Source: ANN
____
Danica Davidson is the author of the bestselling Manga Art for Beginners with artist Melanie Westin, plus its sequel, Manga Art for Everyone, and the first-of-its-kind manga chalk book Chalk Art Manga, both illustrated by professional Japanese mangaka Rena Saiya. Check out her other comics and books at www.danicadavidson.com.