I want to eat your pancreas Anime Film Celebrates Life in U.S. Theaters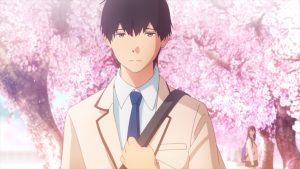 Featured Spotlight: Fathom Events
Featuring a deeply emotional story told through stunning animation, I want to eat your pancreas is an anime film experience like no other. The award-winning feature has captured the hearts of millions since its Japanese debut, and you can see it for yourself when it screens in select theaters across the U.S. on February 7 and 10.
When our usually aloof bookworm protagonist runs into his classmate Sakura Yamauchi in a hospital, he discovers something that isn't known to many of the people around her. Regarded as a highly popular and cheerful student, Sakura is secretly suffering from a pancreatic illness that only affords her a limited amount of time.
Now that he knows Sakura's secret, he soon finds himself deeply affected by her focus on "Living with Dying." She might not have much time left, but Sakura intends to use that time to the fullest while she can, paving the way for a tale of personal growth for all involved.
Based on the award-winning novel by Yoru Sumino, I want to eat your pancreas is a beautiful coming-of-age story that captures an emotional journey between two polar opposites. Directed by Shinichiro Ushijima (episodes of One-Punch Man and Hunter x Hunter) and produced by Studio VOLN (Ushio and Tora), this is a movie you won't want to miss on the big screen. Tickets are available for subtitled showings on February 7 and English-dubbed showings on February 10, so check for theaters near you and purchase your own today.
** This article was sponsored by Fathom Events **