URAHARA TV Anime Reveals Cast and Visual
Crunchyroll recently announced plans to team up with Chinese video sharing site Bilibili on a brand new TV anime project, and now we have more details on the results. Based on the webcomic PARK Harajuku: Crisis Team!—which has been running on Crunchyroll since May 2015—URAHARA is set to debut this October with an all-star voice cast behind it. 
URAHARA will feature animation production by Shirogumi (Etotama) and EMT Squared (Love Tyrant), with worldwide streaming planned, including Japan, the United States, and China. Before we get to the cast, here's the full key visual: 
URAHARA's main voice cast includes: 
Rito Sudo: Luna Haruna (Sword Art Online, Saekano, Monogatari series theme song singer) *URAHARA is her debut as a voice actor
Comment: "A seiyu is a sacred job that breathes life into characters, isn't it? Is this a dream?? Is it OK for me??? I am so nervous now that I feel like I am going to faint, but I will face this job directly with this role and do the best I can!"
Mari Shirako: Sumire Uesaka (Aletta in Restaurant to Another World)
Comment: "I am very excited for the fact that the story is set in Harajuku, because I have a deep attachment to the area. The character of Mari has a Lolita-ish feeling about her, and I can feel kinship with that aspect of her. I will play her to the best of my ability!"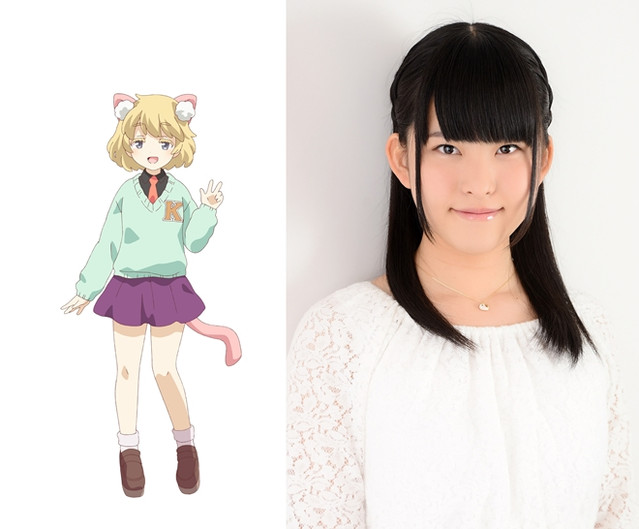 Kotoko Mentsumugi: Manaka Iwami (Chiaki Hoshinomori in Gamers!)
Comment: "I'm Manaka Iwami, and I will be voicing the part of Kotoko Mentsugumi. I am looking forward to playing a character that has a soft and warm personality. I'll do my best! It's going to be fantastic!" 
Amika Kubo is directing the TV series, with Natsuko Takahashi (Love Tyrant) on series composition, based on the original story by Otaku USA's own Patrick Macias and the original character designs by Mugi Tanaka (PARK). 
You can find out more on the official website and Twitter account. 
Via Crunchyroll