Upcoming Cloud Strife Figurine Has Him Decked Out in a Dress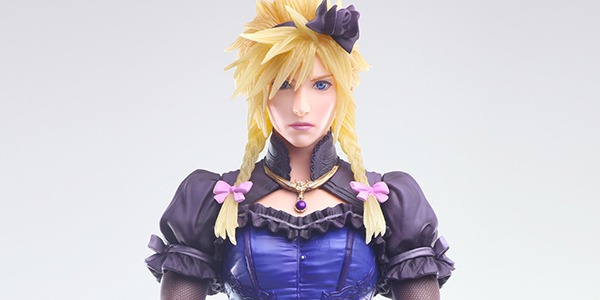 The Final Fantasy franchise has gotten a lot of merchandise over the years, and that's especially true for Final Fantasy VII and the newer Final Fantasy VII Remake. You can get all sorts of figurines of the characters, but the latest is an upcoming Cloud figurine that references a very famous part of the game: when he wears a dress as part of his mission.
The figurine is called Final Fantasy VII Remake Play Arts Kai Cloud Strife Dress Version and is just short of eleven inches tall. While Cloud has the possibility of putting on different dresses for Final Fantasy VII Remake, figurines were not made for each dress.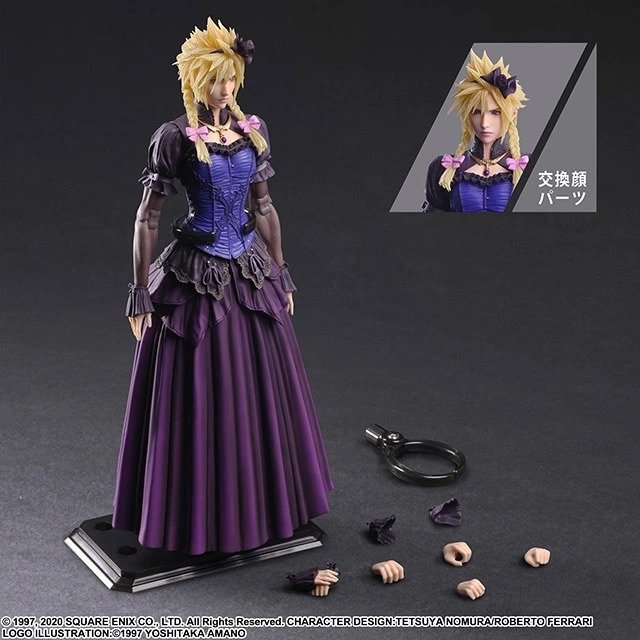 So while you can't put different dresses on Cloud, you have the option to switch out his face plate for two different expressions, and you have different options of hands you can put on him.
Final Fantasy VII Remake Play Arts Kai Cloud Strife Dress Version will be shipped in March 2023, but is available for pre-order. He costs 19,580 yen (about $143.23) on the Square Enix E-Store and slightly less (18,162 yen) on Amazon Japan.
PlayStation gave this description of Final Fantasy VII Remake:
"The world is under the control of Shinra, a corporation controlling the planet's life force as mako energy. In the city of Midgar, Cloud Strife, former member of Shinra's elite SOLDIER unit now turned mercenary lends his aid to the Avalanche resistance group, unaware of the epic consequences that await him.

FINAL FANTASY VII REMAKE is a reimagining of the iconic original with unforgettable characters, a mind-blowing story, and epic battles.
The story of this first, standalone game in the FINAL FANTASY VII REMAKE project covers up to the party's escape from Midgar, and goes deeper into the events occurring in Midgar than the original FINAL FANTASY VII."
Source: SoraNews24
____
Danica Davidson is the author of the bestselling Manga Art for Beginners with artist Melanie Westin, plus its sequel, Manga Art for Everyone, and the first-of-its-kind manga chalk book Chalk Art Manga, both illustrated by professional Japanese mangaka Rena Saiya. Check out her other comics and books at www.danicadavidson.com.