Tezuka Works Celebrated in Crowdfunded TEZUCOMI Collection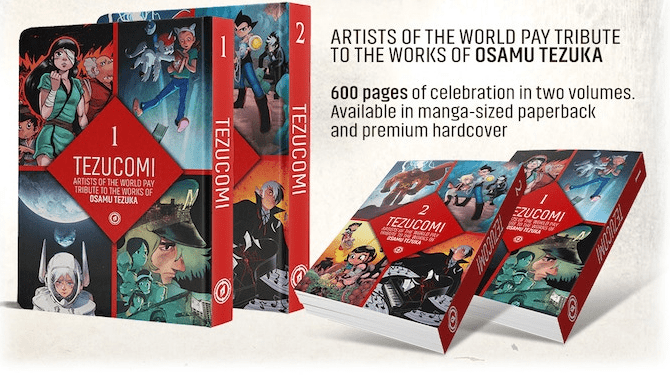 There's no question that Osamu Tezuka pretty much defined the manga landscape as we know it. From remakes to reimaginings, his works live on even today. And soon, fans can dive into an English translation of 2018's TEZUCOMI, a multi-issue tribute to the his many works.
The road to publication is already well underway, and you can be a part of it! Read on to find out how:
What is TEZUCOMI?
In 2018, Micro Magazine teamed up with Tezuka Productions for a 90th birthday tribute. The manga master passed away in 1989, but his works lived on in what would have been his 90th year. The result was TEZUCOMI, an 18-issue release featuring new stories starring his huge stable of characters.
Demonstrating just how influential he was, the collection featured artists from all over the world. Each issue contained a single installment, plus historical information about its inspiration. Until now, the collection hasn't been officially available in English. But that's about to change!
Magnetic Press
If you're a fan of classic anime and manga, you've likely heard a bit about Magnetic Press in recent years. The graphic comic and artbook publisher was a major part of the Lupin the III 50th anniversary festivities, releasing a gorgeous commemorative artbook. They went a step further, printing an English translation of the first Arséne Lupin collection illustrated by Vincent Mallié. As we speak, Kickstarter backers are receiving Mallié's matching Sherlock Holmes.
Now, it's Tezuka's turn! The TEZUCOMI Kickstarter is a week away from finishing and more than 1,000% funded! It's blasted through tons of stretch goals, meaning backers can get even more than the promised two volumes. Depending on how big a fan you are, you can throw in your two cents to help, or score something truly beautiful for your home library.
What's Available
Obviously, the centerpiece of TEZUCOMI is the comics themselves: 18 Tezuka-inspired tales from global talent. Wakfu artist Kenny Ruiz contributes Team Phoenix and Songoku stories. MIG, of Wakfu and Ogrest, offers a new spin on Unico. Elsa Brants of Save Me, Pythia fame takes on Princess Knight. And so on, Even more obscure works get rep in this two-volume set!
The fun comes in choosing which version you'll get. Will you go digital or paperback? And will you grab the shiny slipcover edition with red foil embossed plates? Whatever you choose, you've got some quality reading ahead of you.
There's still a week left, so get your pledge in for TEZUCOMI while you can! And while you're on the campaign page, read up on the project's many talented contributors!