Studio Ghibli Rolls Out Its Mother's Day Merchandise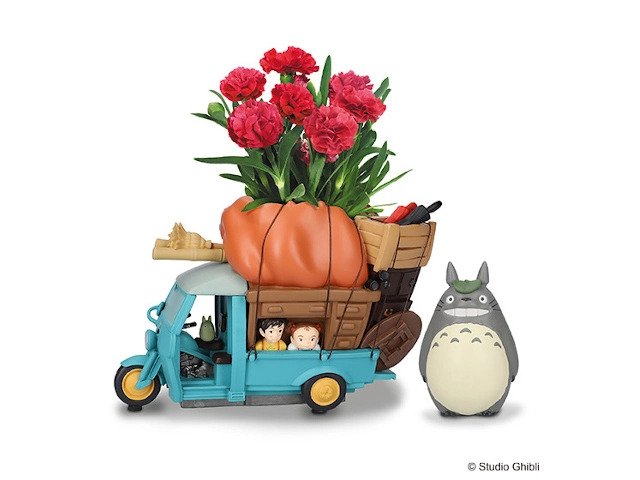 According to Studio Ghibli co-founder Toshio Suzuki, his colleague Hayao Miyazaki has a mother complex and bases many of his heroines after her. So it's no surprise that there is new Studio Ghibli merchandise coming out specifically for Mother's Day.
The three new items are all flower pots (though they get referred to by the fancier name "diorama boxes"). The My Neighbor Totoro Three Wheeler Vehicle and Carnation Set (see above) has leads Mei and Satsuki in their car and a little Totoro in the driver's seat. Totoro himself is not attached to the car, but comes along with the set. And it comes with "Pretty Strawberry" carnations. The carnations can be removed and other flowers — or any other small items — can be placed there instead. This costs 9,680 yen (which is about $72.00).
The Everyone's Kusakabe House and Magical Tutu Set also pays homage to My Neighbor Totoro. You can see the Kusakabe home and more than one Totoro hanging about it. These carnations are called "Magical Tutu Cherry Red" carnations. This set costs 11,000 yen (which is approximately $82.41).
The last flower pot is not Totoro inspired, and instead takes its images from Kiki's Delivery Service. Called the Jiji and Lily and Carnation Set, it goes for 9,460 yen (which is about $70.88). Like with the other two, the carnations can be removed and other things can be placed there.
If you want to get these for your mom (or, you know, for yourself, or for a Ghibli fan you know), there are selling on this website. They can be ordered up through April 30, and will be delivered in May, just in time for Mother's Day. (If you forgot, Mother's Day will take place on May 14 this year!) These are definitely unique places to keep your bouquets of flowers and great for fans of Ghibli.
Source: SoraNews24
____
Danica Davidson is the author of the bestselling Manga Art for Beginners with artist Melanie Westin, plus its sequel, Manga Art for Everyone, and the first-of-its-kind manga chalk book Chalk Art Manga, both illustrated by professional Japanese mangaka Rena Saiya. Check out her other comics and books at www.danicadavidson.com.