The 100 Girlfriends Who Really, Really, Really, Really, Really Love You Is Becoming an Anime
The manga The 100 Girlfriends Who Really, Really, Really, Really, Really Love You (a.k.a. Kimi no koto ga Dai Dai Dai Dai Daisuki na 100-nin no Kanojo in Japanese) will soon be an anime! It will premiere sometime later this year, and a visual has been released, along with a bit of information on the cast and crew.
Looking toward the cast, Wataru Katō plays Rentaro Aijo, Kaede Hondo plays Hakari Hanazono, and Miyu Tomita plays Karane Inda.
The anime is being made at Bibury Animation Studio, with Hikaru Sato of Dropkick on My Devil! helming the project as the director. Credit for character design goes to Akane Yano of Bottom-tier Character Tomozaki and credit for series composition goes to Takashi Aoshima of Uzaki-chan Wants to Hang Out!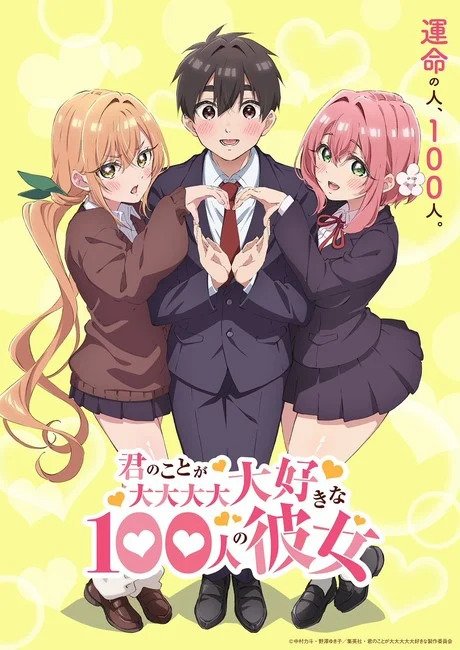 The manga by Rikito Nakamura and Yukiko Nozawa has been licensed in North America by Seven Seas Entertainment. Seven Seas gave this description for its plot:
"Aijo Rentaro tried and tried again, but after asking a hundred girls out on a date, he was rejected every single time. In desperation, he prays for guidance…only to be told by a god that his rejections were due to some cosmic error! Now the god is going to set things right by making sure that Aijo gets one hundred dates. Except, as things often do with gods, the dates come with a catch: one hundred girls are destined to be Aijo's soulmate, and unless he returns their feelings each and every time, they'll die in horrible accidents! Sure enough, girls start confessing their love to Aijo left and right. But how is he supposed to choose?! He doesn't want to kill anyone! When he looks at each potential soulmate, it feels like a bolt of lightning. Can someone really love a hundred other people? This hilarious romantic comedy takes the harem concept to a wild extreme!"
Source: ANN
____
Danica Davidson is the author of the bestselling Manga Art for Beginners with artist Melanie Westin, plus its sequel, Manga Art for Everyone, and the first-of-its-kind manga chalk book Chalk Art Manga, both illustrated by professional Japanese mangaka Rena Saiya. Check out her other comics and books at www.danicadavidson.com.