Stan Lee and Kazuo Koike Meet Up At Comikaze Expo
"Stan Lee" by Gage Skidmore on
Flickr
.
Talk about a meeting of minds: legendary comics creators and venerable godfathers of their respective media Stan Lee and Kazuo Koike met up for a chat last month at Camikaze Expo in Los Angeles, reports the Asahi Shinbun.
The two comics veterans chatted about "superhero comics as fantasy fiction for adults" and about film adaptations of their works.
Stan Lee, 92, (!) is of course the creator of such comics as Spider-Man and X-Men, while the comparative whippersnapper Koike (78) is the creator of such manga as Lone Wolf and Cub, Crying Freeman and Lady Snowblood.
The two men have actually been on each others' radar for some time. In 1970 Koike wrote a Japanese version of The Incredible Hulk, which Stan Lee co-created. He also wrote a volume of X-Men Unlimited in 2003.
In 1974, Lee sent an letter asking about the American rights to Koike's Lone Wolf and Cub to the Japan Publications Trading Co., though the project obviously didn't get much past the inquiry stage.
Lee and Koike, who have a combined age of 170, are both still hard at work on various projects. Great.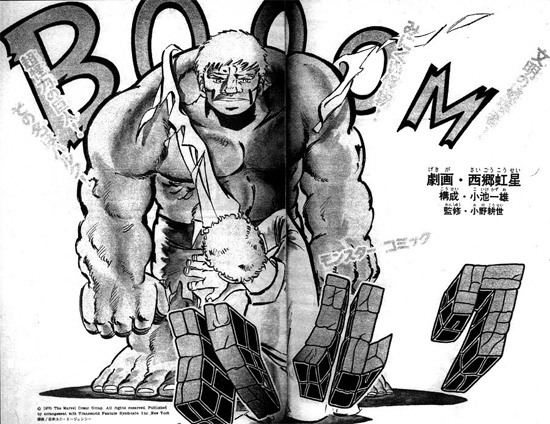 Koike's
Hulk
manga.
Sources: Asahi Shinbun, Kung Fu Fridays, The Untold Story
---
Related Stories:

– Attack on Titan Crosses Over with Marvel
– Madhouse animates new Avengers film
– Capcom Vs. The World
– Eternal Tears of the Crying Freeman Anime
– The Many Faces of Yamada Yoshihiro