Spice and Wolf VR Game to Start Crowdfunding November 25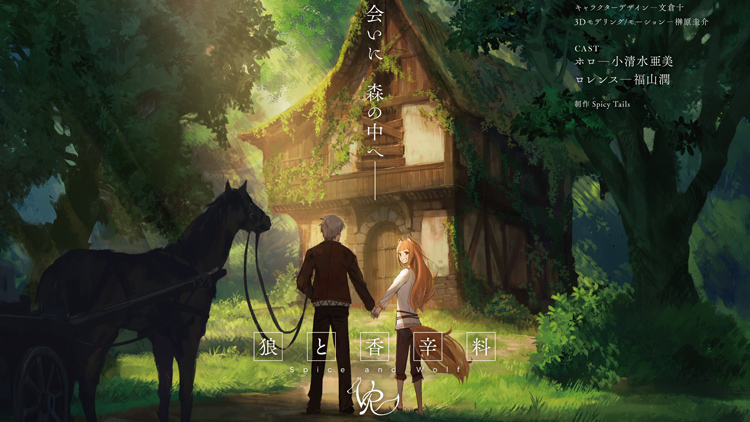 A few months ago, it was announced fantasy series Spice and Wolf would be getting a VR game. Now Spicy Tails, the development team behind that game, have announced that crowdfunding will kick off November 25.
Crowdfunding will take place across two platforms: Campfire, for those in Japan, and Kickstarter, for those abroad.
The team revealed they will be preparing limited-edition items and production updates for backers.
"Spice and Wolf VR" cloud funding will start on November 25! We are preparing to thank for support such as limited goods and notice of production situation. pic.twitter.com/g3dkhSkUy5

— SpicyTails@ (@spicytails) October 31, 2018
Spicy Trails have recently been showing off some of the in-progress work on the game, which is set to hit HTC Vive, Oculus Rift and PC early next year.
Here's how Yen Press describes the original Spice and Wolf novel:
The life of a traveling merchant is a lonely one, a fact with which Kraft Lawrence is well acquainted. Wandering from town to town with just his horse, cart, and whatever wares have come his way, the peddler has pretty well settled into his routine-that is, until the night Lawrence finds a wolf goddess asleep in his cart. Taking the form of a fetching girl with wolf ears and a tail, Holo has wearied of tending to harvests in the countryside and strikes up a bargain with the merchant to lend him the cunning of "Holo the Wisewolf" to increase his profits in exchange for taking her along on his travels. What kind of businessman could turn down such an offer? Lawrence soon learns, though, that having an ancient goddess as a traveling companion can be a bit of a mixed blessing. Will this wolf girl turn out to be too wild to tame?
Source: Siliconera