Konosuba: God's Blessing on This Wonderful World! Gets Dungeon RPG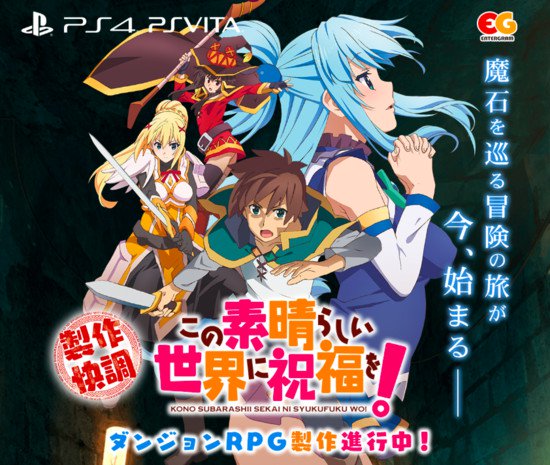 Popular light novel/anime franchise Konosuba: God's Blessing on This Wonderful World! will be getting a dungeon RPG for PlayStation 4 and Vita.
The game is being produced by Entergram, and will feature a new song titled "Stand Up" performed by Machico. Machico has previously performed the theme songs for both seasons of the anime series.
The tagline used in the visual for the game reads, "the adventure for the demon stone begins now."
Here's how Yen Press describes the original Konosuba light novels:
Game loving shut-in Kazuma Sato's life as a young schoolboy in Japan abruptly comes to an early end…or at least it was supposed to. When he opens his eyes, though, he sees a beautiful goddess that offers him a once in an after-lifetime chance to be reborn in a parallel world. The catch is that the world is violent and threatened by a growing evil! Fortunately, he can choose any one thing to bring with him. So he chooses the goddess, Aqua! And so his adventure with his gorgeous companion begins–if he could just get enough money and food to survive, keep his goddess out of trouble, and avoid grabbing the attention of the Demon King's army!
Source: ANN