Sentai Adds C3, Dog & Scissors, and More Anime
As usual Sentai Filmworks is at Anime Expo with a handful of anime announcements. Heck, more could be coming in as I type this! Thus far we have the distributor adding Hakkenden: Eight Dogs of the East season 2, Stella Women's Academy: High School Division Class C3, Dog & Scissors, and Rozen Maiden ~ Zurückspulen.
Sentai plans to release the series digitally through select outlets this month, with home video releases to follow in 2014. All of the series announced at this point are also streaming on Crunchyroll. Here's Sentai's lowdown on each of their new acquisitions:
Stella Women's Academy, High School Division Class C3
Girl just want to have guns in Sentai Filmworks' newest acquisition: Stella Women's Academy, High School Division Class C3!  This rambunctious 12 episode series is helmed by first time director Masayoshi Kawajiri, and features character designs by Manami Umeshita (MEDAKA BOX), with sound direction by Jun Watanabe (MEDAKA BOX) and music by Kotaro Nakagawa (Devil Survivor 2 The Animation).
When Yura Yamato arrives at Stella Girl's Academy, she knows there's something a little different about her dorm mates.  But it's not until her new roommate Sonora invites her to join a club called C3 that it all becomes clear.  Because C3 stands for Command, Control and Communications, and NOW Yura understands why all of the other girls have model guns!  It's a survivalist club, and what her new friends like to do is shoot each other!  It's not exactly your typical teenage girl pastime, but Sonora and her friends Karira and Honoka are seriously into it.  So faster than you can say "Bang, bang, you're dead," Yura and fellow new recruits Rento and Yachiyo are drafted into the ranks of the Caliber Centric Crowd!  But the loaded question that puts Yura in the crosshairs of a dilemma is whether she has what it takes to stand and deliver in the face of oncoming friendly fire.  Will her hopes of fitting in be shot down or will she hit the target she's aiming for?  Scope out the insanity as Yura pulls the trigger and throws everyone's battle plans into total disarray in Stella Women's Academy, High School Division Class C3!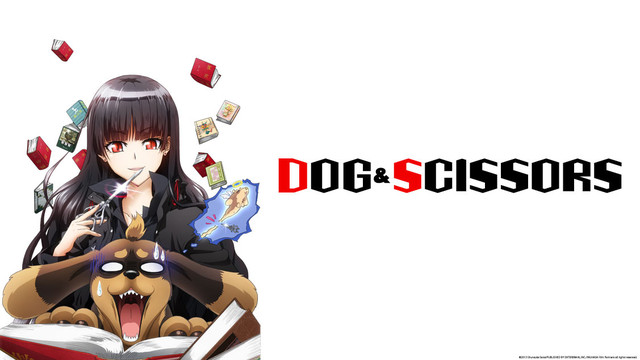 Dog & Scissors
This 12 episode romp from animation powerhouse GONZO is directed by Yukio Takahashi and features character designs by Youko Satou, with series composition by Toshizo Nemoto, sound direction by Jun Watanabe and music by Akito Matsuda.
Kazuhito Harumi was the ultimate bookworm, spending days at a time with his head buried in his beloved books, and little could make him happier than perusing the pages of his favorite author, Shinobu Akiyama.  Unfortunately, Kazuhito's life goes to the dogs, literally, when he gets himself killed while trying to stop a robber!  Thanks to the power of a true bookworm, however, Kazuhito inexplicably finds himself reincarnated as a dog, which might not be so bad if dogs could READ.  Or if the woman who adopts him didn't have twin predilections for playing with scissors and tormenting her new pet!  But what truly makes this strange reincarnation the worst of all possible worlds is that she's also his FAVORITE AUTHOR!  The horror!  Can Kazuhito find a way to live with this tantrum throwing typist, or will her crazed clippings prove to be his undoing?  Can he escape her constant hounding via the doggy door, or is he barking up the wrong tree?  There's a rough, rough time ahead as canine compulsive readers and literary she-wolves get snippy with each other when doggies do what they gotta do in DOG AND SCISSORS!
Hakkenden: Eight Dogs of the East Season 2
Those who live by the sword may very well die by the sword in Sentai Filmworks' newest acquisition: the second season of Hakkenden: Eight Dogs of the East!  The 13 episode follow up to the popular first season features the return of Chief Director Osamu Yamasaki (Hakuoki: Dawn of the Shinsengumi), Director Mitsue Yamasaki, Character Designer Hiromi Kato (Needless), Sound Director Hozumi Goda (Vampire Knight) with music by Hitomi Kuroishi (Code Geass: Lelouch of the Rebellion).
Forced to choose between death and an unnatural life bound to the living sword Murasame, Shino Inuzuka chose the sword.  Now, however, in the bloody aftermath of his transformation and Kohaku's death, Shino's awareness of the true scope of his bond with Murasame has expanded.  Is he truly a curse to all who meet him?  In the end, the focus must return to the mysterious beads which started everything.  What exactly are their origin and powers?  Who and where are the holders who have not yet been located?  And what are Rio Satomi and the Imperial Church's real roles in all of this?  The search continues in the second stunning season of HAKKENDEN: EIGHT DOGS OF THE EAST!
Rozen Maiden ~ Zurückspulen
A single decision, a single change and the world becomes a complete different place.  Or does it?  Find out in Sentai Filmworks' newest acquisition: Rozen Maiden ~ Zurückspulen!  This 12 episode reimagining of the classic Rozen Maiden series is directed by Mamoru Hatakeyama (Sankarea) and features character designs by Kyuta Sakai (When They Cry ~ Higurashi), with series composition and sound direction by Tomomi Mochizuki (Touka Gettan) and music by Shinkichi Mitsumune (Rozen Maiden).
Time is a strange thing.  In every moment, there are fleeting circumstances of opportunity, which if taken, can completely change the course of one's life.  And there are those who postulate that not only is each of these chains of events possible, but that there are parallel worlds where those events HAVE taken place.  Which brings us to the story of Jun Sakurada… a Jun who chose NOT to turn the key in the back of the lifelike doll that mysteriously arrived at his house.  A Jun who DIDN'T enter into a contract with the Rozen Maiden known as Shinku, and never met any of the other Rozen Maidens.  Or, should we say, hasn't met them YET.  Because just as certain opportunities exist for only a moment, there are also threads of fate so strong that the very fabric universe can turn itself inside out in order to make them happen.  One of which is the thread connecting Jun and Shinku.  The events of the original ROZEN MAIDEN are rewritten, and the destiny of the characters rewound as a once lost spark is rekindled in ROZEN MAIDEN ~ ZURÜCKSPULEN!