Sailor Moon Teams Up with Vans to Get Sparkly Shoes, Clothes and More
Last month Sailor Moon revealed a slew of clothing, jewelry and accessory items that were created to coincide with the 30th anniversary of the anime. But if you think that means there won't be any more Sailor Moon goodies for a while, please know that more are on the way. In fact, Sailor Moon has teamed up with Vans for special Sailor Moon shoes, clothes and accessories!
For starters, let's take a look at these shoes. These are sized for adult feet, and they cost anywhere from 6,600 yen (about $50) to 15,950 yen (about $112).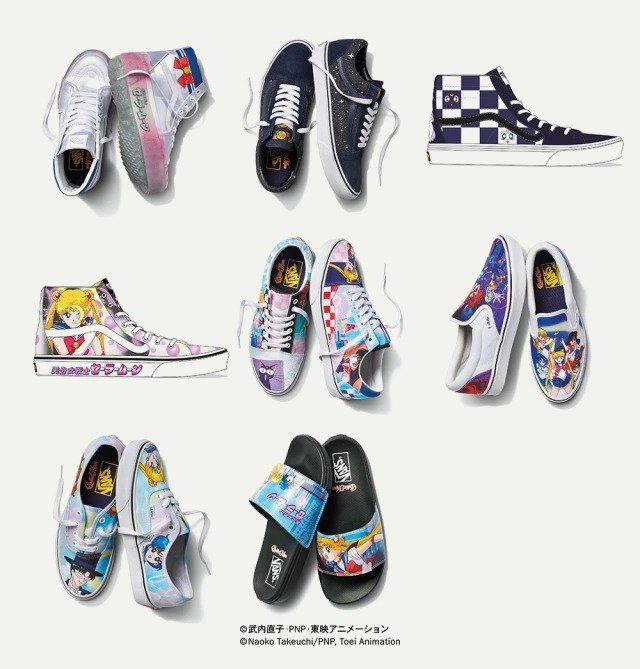 But they didn't just make shoes for adults who still enjoy their inner child. There are actual children's shoes as well.
So what about the clothing and accessories? Take a look at this setup, which has a sweatshirt, backpack, socks, shirt and hat.
Here's another set of options for a backpack, sweatshirts, shirts and hat.
These items will become available to buy on June 17, when they'll hit stores in Japan. They'll naturally be sold at Vans stores throughout the island nation, and the chain ABC-Mart will supply them as well. In addition, the ABC-Mart Gran DStage will have them available online, so you don't need to physically be in Japan to get them.
VIZ Media is releasing the anime in English, and gave this description for the first volume:
"Usagi Tsukino is a cheerful 14-year-old schoolgirl who often finds herself in unwanted trouble. One day, she saves a talking cat named Luna from some mean kids, and her life is changed forever. Luna gives Usagi a magic brooch that transforms her into Sailor Moon, guardian of love and justice! Now Usagi must work with Luna to find the other Sailor Guardians and the Moon Princess, whose Legendary Silver Crystal is Earth's only hope against the dark forces of the evil Queen Beryl!"
Source: SoraNews2
____
Danica Davidson is the author of the bestselling Manga Art for Beginners with artist Melanie Westin. She is also the author of its upcoming sequel, Manga Art for Everyone, and the first-of-its-kind manga chalk book Chalk Art Manga, both illustrated by professional Japanese mangaka Rena Saiya. Check out her other comics and books at www.danicadavidson.com.