[Review] Wandering Island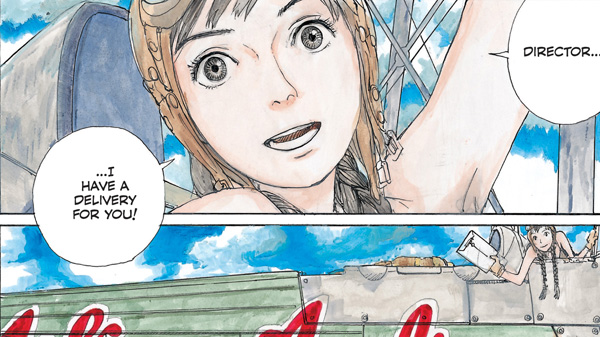 © Kenji Tsuruta 2011 / Kodansha Ltd.
On one of the countless tiny islands on the edges of Japan, ocean-loving Mikura runs a seaplane freight service with her tough old salt of a grandfather. Then her grandfather dies, leaving her to carry on alone. In his papers, she finds references to a place called "Electric Island," which echoes local legends of a floating island that appears to fishermen. Soon Mikura becomes obsessed with Electric Island, papering her walls in charts. Maybe her grandfather died trying to reach this impossible island. Or did he die? Is it significant that his last name was Amelia?
What a treasure this manga is. Wandering Island is the newest work by Kenji Tsuruta, a mangaka and illustrator best known for the poetic, steampunky 1980s manga Spirit of Wonder. "Spirit of Wonder" neatly describes the mood of Tsuruta's work, as does the title of his debut manga, What a Big Wonderful Universe It Is. He's not a prolific creator, but his work always glows with a sense of wonder and beauty. He observes his characters with keen affection, and they in turn observe the world around them, teeming with possibility.
© Kenji Tsuruta 2011 / Kodansha Ltd.
Over the years, Tsuruta's lush illustrations have only grown lovelier. Tsuruta fills the pages with intensely detailed drawings of boats, seaplanes, shorelines, and weathered buildings. At times Wandering Island recalls Daisuke Igarashi's Children of the Sea, another manga in love with the sea and everything in it. At other times it's like what would happen if Hayao Miyazaki was into drawing babes;
Mikura spends a lot of time chilling in a bikini, her long braids making her look like a sexy grown-up version of Sheeta from Castle in the Sky.
Wandering Island takes its time, lingering on the details of island life and ocean adventure. Tsuruta spends as much time crafting the character of Mikura, studying her expressions, her body language, her comfortable isolation and steely resolve. By the time the action takes off, you can taste the salt air. Recommended.
publisher: Dark Horse
story and art: Kenji Tsuruta
rating: Unrated/13+