[Review] The Perfect Insider
Everything Becomes F: The Perfect Insider is a murder mystery presented thusly: Dr. Magata Shiki, a child prodigy whose intellect is fawned over by the scientific community (even though she's a convicted murderer), is herself murdered within a single-door, staff- and camera-monitored suite to which she has been confined on her own private island-isolated laboratory. The crime shocks and intrigues those on the island at the time, specifically former interviewer/interviewee Moe "almost 20" Nishinosono and her sensei (college teacher), fellow visitor, genius crush, and Magata enthusiast Souhei Saikawa.
Despite perpetual dialogue, the first couple of episodes are strong with acute audio as well as image-driven storytelling highlighted by lighting and transition. The ending of Episode 2 represents the culmination of the serial's best visual and atmospheric efforts, but aspects used therein are used throughout.
Sustained interest, largely reaped via lengthy repartee between Souhei and Moe as well as in flashbacks between Moe and Magata, is a testament to the strength of the writing's flow as well as the voice acting quality in this very talk-heavy noitaminA show. To be fair, said verbal foreplay and intercourse are sustained via a legitimately good mystery, and its resolution is one the simulcast's audience largely praised for its originality and cunning (unless they read the source novel written by Hiroshi Mori). Detractors might cite a deus ex machina, and that feeling is definitely justified … unless you rewatch the series and see just how carefully early and compounding efforts point to the conclusion.
Little details, like a prominent crack in the glass in a nonthreatening place on a coffee carafe and the echo of feet and closing doors in a parking garage, focus the audience on the here-and-now. Later on, however, sci-fi elements take over intermittently, sporadically, and with increasing relevance to challenge the viewer's sense of interaction by changing the degree of certain characters' interpersonal and intrapersonal relationships with environment and cast. This sounds a lot more impressive than the implementation lets on initially, but, again, with even one repeated viewing, certain anachronistic aspects—including characters in flashbacks mouthing current narration, non-sequitur scenes portraying previous exposition, and even those ostriches—prove enthralling and well planned (if only slightly laughable).
Plot is what moves subsequent episodes to a conclusion, but character complexity moves each episode along at a furious pace despite endless scenes with naught but talk—philosophic waxing and overt emotional bait. Exploring all the angles
of dynamic main characters, specifically Magata, Souhei, and Moe, amid a murder mystery while trying to observe everything in the depicted environment, in the same vein as a detective trapped in an empty house with a murderer, makes each episode fly by. The
thirst to know more
only grows, and that's a great strength of this adaptation. To this end, Moe is a great stand-in for the audience; as her mental superior, Souhei, figures out the mystery, and Moe commits herself to figuring out what Souhei has already discovered. Thus she acts as the at-home viewer—collectively attempting to assemble established uniquely pronged cardboard pieces within an evolving frame.
The OP, which is directed by Kazukai Seki and features multicolored line art character representations dancing to J-pop ("talking" by KANA-BOON) on black graph paper, reveals the same. Specifically, the animation explores how the three main characters relate to each other on a certain plane of consciousness while also exploring their personalities. Watch it as many times as you want (I find the song infinitely listenable and the animation incredible), but you'll be floored with everything it tells once you've seen the show in its entirety.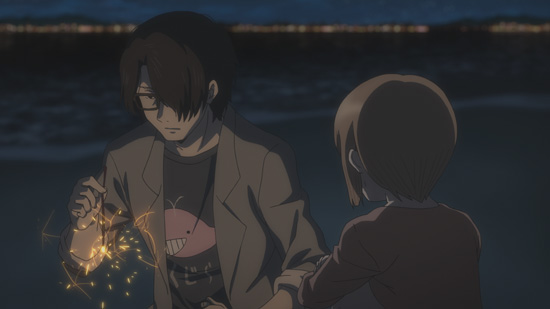 Though in essence a watered-down depiction of existentialism applied to the sensibilities of the traumatized, The Perfect Insider, which has been translated into a manga, a game (visual novel), TV drama, and now an anime (courtesy of A-1 Pictures), was a worthy watch when simulcast, and I appreciate it all the more upon revisiting. Recommended.
studio/company: Sentai Filmworks, Crunchyroll
available: Now
rating: Unrated