Remastered Castle of Cagliostro to Premiere in Japan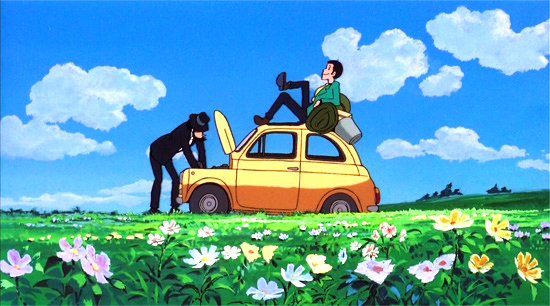 Is it too early to officially call 2014 the Year of Lupin?
I mean, it's looking pretty darn Lupiny so far. First, we've got the animated film Jigen's Gravestone, directed by Takeshi "Redline" Koike, coming out June 21st. That film, which we've previewed extensively, looks head and shoulders above the usual yearly Lupin TV flicks.
Secondly, this August sees the releases of the live-action Lupin film directed by Ryuhei "Godzilla: Final Wars" Kitamura. There hasn't been a live-action Lupin film since 1974's bellbottom-laden Strange Psychokinetic Energy, and this one promises to be at least a little more true to the Monkey Punch ideal (regardless, it'll be worth seeing for Tadanobu Asano as Zenigata alone).
That's two Lupin films in one year! But even that wasn't enough, apparently, because starting May 9th, theaters throughout Japan will be showing a remaster of the classic Hayao Miyazaki-directed Lupin film Castle of Cagliostro. The remaster of the 1979 film apparently took three years to complete. Hey, if I spent that long cleaning dust off a film, I'd want to show it off too.
Those not in Japan, no worries – Discotek is releasing Cagliostro on DVD and Blu-ray in the not-too distant future.
So, 2014: the year of Lupin, amirite?
Source: Crunchyroll
Update 9/8/14: The premiere happened, and we were there. Read our review of Castle of Cagliostro Remastered.