Ranma ½ Anime Blu-ray Review
© Rumiko Takahashi / Shogakukan
Ranma ½ will forever remain a staple of my formative years as an anime and manga fan, from the series itself to the way it introduced me to two then distinctly different markets within the same fandom. When I was younger I would pick up dubbed Ranma tapes and wonder to myself why the subtitled versions were so much more expensive. "Why?! I don't get it! The dub is so hilarious!" I had a lot to learn. The anime industry has changed dramatically since then, but Ranma ½, thankfully, remains the same, and Viz Media's first Blu-ray collection is both a great introduction and an ideal way for longtime fans to keep the classic updated in their collection.
Rumiko Takahashi's story kicks off with Ranma Saotome and his father Genma as they run into a horrible curse while training in China. Refusing to heed the many warnings around the area, Ranma and Genma both end up falling in different cursed pools of water. Ranma plunges into the Spring of the Drowned Girl and Genma falls into the Spring of the Drowned Panda, and from that day forth they transform into their respective cursed forms whenever they come into contact with cold water. Hot water changes them back, and you can probably already imagine the awkward situations this sets them up for, Ranma in particular.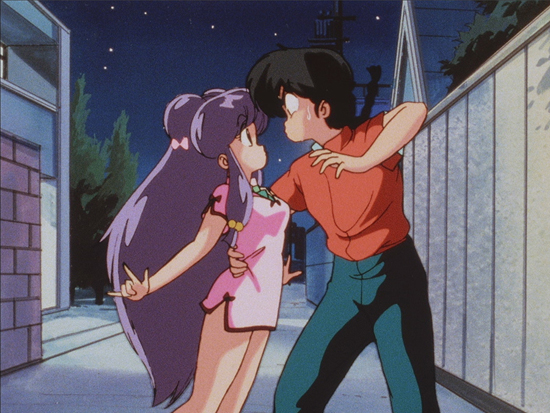 © Rumiko Takahashi / Shogakukan
The pair's curse is immediately revealed to others as they arrive at the martial arts school of Genma's friend, Soun Tendo, who already set up his daughter Akane as Ranma's fiancée. That plan doesn't seem quite the same once they meet the new Ranma and Genma, but they'll all have to learn to live together, go to school together, and, should everything go according to plan, merge the Tendo and Saotome families as one. It's a great recipe for comedy (and action), and it only gets better as the cast expands, introducing increasingly ridiculous and unforgettable characters.
When I first saw Ranma ½ it was quickly identified as "the show that has some boobs in it sometimes," but that also applied to most of the anime I watched throughout middle and high school. I thought it was funny at the time, but I didn't really appreciate it until the first DVD box sets started coming out in 2001. Viz's new Blu-ray collection is a nice fresh start. The show looks great, there are plenty of features, and the first set keeps it all compact so it doesn't take over your shelf the way Digital Dojo and the other subsequent boxes would.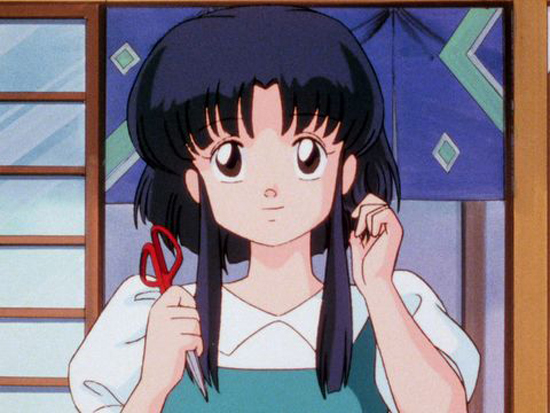 © Rumiko Takahashi / Shogakukan
More importantly, the show holds up. It's not quite as punchy as Takahashi's manga—which is up there as her best work next to Urusei Yatsura—but it has a unique pace of its own. The excellent English dub is also much more nuanced than a lot of the stuff more modern anime fans might be used to. It can get up there and manic, sure, but more often than not it's pretty laid back, especially considering some of the absurd situations the characters are put in. I guess the best way to put it is that it comes off as natural; sitcommy at times, yes, but natural. And hey, if you don't even like the dub, that's fine, the original Japanese language version is here, too.
At this point one may wonder if it's even possible to take a step back and really evaluate Ranma ½ as something more than the sum of its nostalgia, from the original manga to the aforementioned dub. Even beyond all that, though, it's just a solidly constructed comedy with well-timed gags and a memorable cast of characters. Ranma ½ represents Rumiko Takahashi at the top of her game, and the anime does a commendable job of translating the tale into animation while preserving what makes it work.

© Rumiko Takahashi / Shogakukan
For more on the Ranma ½ set, be sure to check out our interview with Charlene Ingram, Viz Media's Senior Manager of Animation Marketing.
Distributor: Viz Media
Available: Now