Princess Jellyfish Live-action Movie Review
Transformation is a theme at the heart of Princess Jellyfish, the ongoing josei manga series about a jellyfish otaku who changes from a shy, world-shunning shut-in to a world-famous fashion designer with the help of her otaku flatmates and cross-dressing friend Kuranosuke.
It's appropriate then that Princess Jellyfish itself has transformed twice: once from manga to anime and now to a live-action film directed by Taisuke Kawamura (L.DK).
Princess Jellyfish stars Rena Nonen as Tsukimi, the self-described jellyfish otaku who lives in a house in Tokyo called the Amamizukan along with a group of other female otaku who each have their own specialty: traditional Japanese dolls, trains, Romance of the Three Kingdoms and older men. The girls rarely travel outside the house, making a living as assistants for a famous manga artist who lives upstairs and gives decrees by papers slipped under her door.
Tsukimi's otaku life is turned upside down when she meets Kuranosuke, who she initially takes as a girl but soon realizes is a cross-dressing college student: what's more, the son of a local politician who aims to convert the female otaku's Amamizukan into a hotel.
In a story all about transformation, casting is essential. Princess Jellyfish features, among other things, a man who looks like a convincing woman and a house full of women who start out looking like unkempt otaku one moment and end up dressing like stylish fashion designers. Easy enough in manga and anime; harder in real life.
Thankfully, Princess Jellyfish nails the casting. Tsukimi is played by Rena Nonen, famous in Japan for her leading role in 2013's TV series Amachan, and who falls perfectly into that sweet spot between otaku and chic. But Masaka Suda steals the show as the entirely convincing and extremely likable cross-dressing Kuranosuke.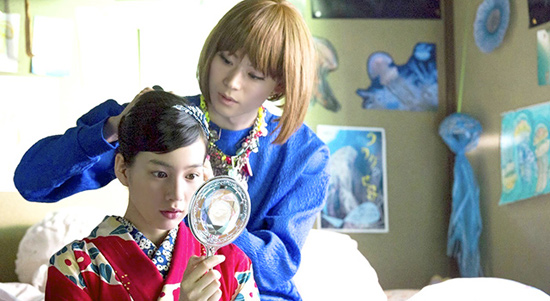 It doesn't hurt that Kuranosuke is the character with the most going on. Despite the title, our jellyfish princess and her otaku friends are almost frustratingly passive, unable to work up the courage to go protest the demolition of their beloved home until prompted by the outgoing Kuranosuke.
Once given enough pep talks, though, the girls band together to assemble a hastily-produced fashion show to earn funds (and sympathy) for their cause, producing a series of dresses designed by Tsukimi to look like jellyfish.
The film hits all the major plot points of the manga, ending at about the same point as the anime adaptation, and while it may not win any awards for exceptional filmmaking, I'm definitely putting Princess Jellyfish in the "win" column for manga-to-live-action adaptations. It's well-pitched, feeling like a manga adaptation without being too over-the-top, and features fine performances, especially by Suda and Nonen.
One of Princess Jellyfish's main plot points, saving the Amamizukan from unscrupulous politicians and realtors, has become more relevant since debut of the original manga, with many famous Tokyo landmarks slated for demolition to make way for the 2020 Olympics. One only wishes the owners of these well-loved historic Tokyo spots had advocates like Tsukimi and her friends.
---
Related Stories:

– Live-Action Lupin III Goes Behind the Scenes
– Parasyte (Part 1) Film Review
– Rurouni Kenshin: The Legend Ends Review
– Live-action Attack on Titan Visuals Revealed
– Down and Out in Hollywood: Failed Live-Action Anime Adaptations