Manga Review: Prophecy vol. 1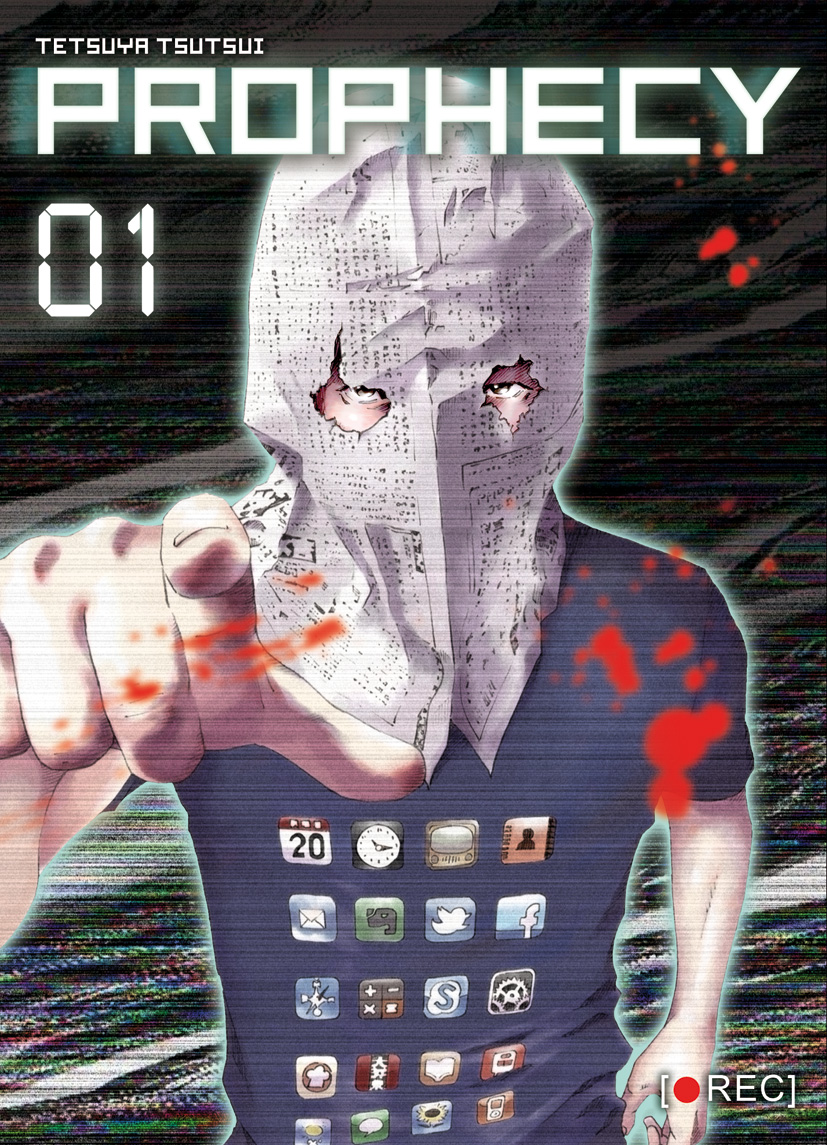 Now seems like the perfect time for Tetsuya Tsutsui's Prophecy manga to make its way to English readers. First published in France in 2012, Prophecy concerns an enigmatic online video streamer who calls out people and companies for their wrongdoings and exacts his own style of revenge on them. But is it really just one person? And what could cause someone to both take these extreme measures and develop the know-how to get away with it? Those and more are questions best left to the Metropolitan Police Department's Anti Cyber Crimes Division, and they've got their hands full in the first volume of Prophecy.
The mysterious subject of the investigation always sports that day's newspaper over his face during broadcasts as he points his finger at viewers and proceeds to announce his "warning for tomorrow." While those pursuing him are initially heartened to discover that it seems almost no online commenters are keen on his actions, they soon discover a growing wave of support as interest throughout the region soars. There's just something captivating about someone who wants to create their own rules and watch the old ones burn, all the while streaming the most gruesome moments for all to see.
Erika Yoshino leads the search with a no-nonsense attitude and a keen eye for details supported by the rest of a small but affable squad. Just as the cyber criminal in question executes his warnings with a dangerously high level of confidence, Yoshino isn't afraid to follow leads and ask the questions that cut right to the heart of the matter. "YOU'RE SAYING HE SHOVED A VIBRATOR UP YOUR ASS," she shouts at a sheepish victim who just won't spit it out. She would steal volume one if it weren't for the ever-deepening history of the masked man, which really starts to light up as it builds toward its cliffhanger ending.
Despite being a couple years old, Prophecy seems more relevant than ever now, and it's backed by Tsutsui's careful and detailed linework. His method of building suspense through pacing and panel layouts is top notch, and like any good thriller you just want to see what this guy's willing to do next to get his message across. If you've found yourself hooked on darker television programs like Channel 4's Black Mirror, or even your average crime procedural, you'll find a great deal of potential in the first volume of Prophecy.
Story & Art: Tetsuya Tsutsui
Publisher: Vertical Comics
© 2012 Tetsuya Tsutsui / Ki-oon