Peek Inside the Evangelion Bullet Train
Back in July, JR West announced the deployment of a Neon Genesis Evangelion-themed variant of their series 500 bullet train, designed by Eva mech designer Ikuto Yamashita. Exterior concept renderings were released, but the interior look of the trains remained a mystery.
Recently, Japanese news source Tetsudo Shimbun released interior renderings of the first two cars, which will continue the theme. The first car will feature a life-size eva cockpit, along with various Evangelion dioramas, models, and displays. The second car features seats decked out in Unit-01 colors and many Nerv logos.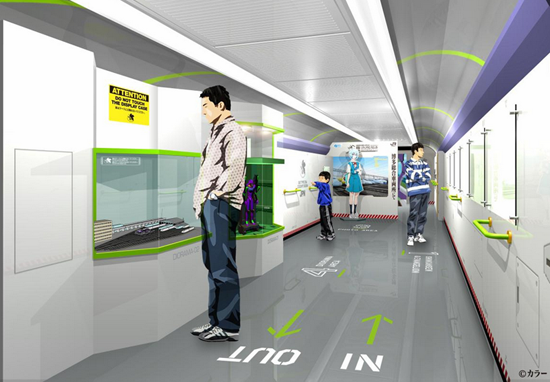 That is just the first two cars, and it seems there are currently no plans for the rest of the train interior, so if you are in Japan and want to check it out, you will have to be sure to make your way up to the front to get the full experience.
The exact date this fall that the "500 Type Eva" will hit the tracks is unknown (they're running out of time), but it is scheduled to run from Osaka to Fukuoka up until March 2017. A line of Eva-themed travel memorabilia and promo events will coincide with its debut, and if we are really lucky, we just might have the Eva 3.33 home release here in the U.S. by the time it shuts down!
Source: Kotaku
---
Related Stories:

– FUNimation Hopes to Release Evangelion 3.33 Early Next Year
– [Review] Evangelion 3.0: You Can (Not) Comprehend
– Hideaki Anno's Godzilla Begins Filming in Tokyo
–
Evangelion Creator Says Anime is Dying

---
Get more Eva news at our Evangelion tag page!