Japan Celebrates Dom Day With Lots of Gundam Tweets
The Japanese language is filled with many wild and wonderful ways to pronounce numbers, which means lots of fake punny holidays (for example, five and nine can be pronounced "goku," leading to May 9 becoming Goku Day).
Another example is today, October 8, which someone has creatively pronounced as "domu," making today Dom Day. As such, Gundam fans have taken to Twitter, posting their favorite pictures of the old workhorse, Gundam's MS-09B Dom.
Check out the #ドムの日 hashtag and prepare for a trip into the wild, creative and sometimes very stupid world of Japanese otaku Twitter. Don't say we didn't warn you.
旦那が初めて作ったデカイものがドムで、置く場所無いからってアパートの玄関先に一カ月以上置かれて、デカイし狭いし近所の小学生が見にくるしで大変だったし当時はドムとザグの違いが分からなかった
#ドムの日 pic.twitter.com/HOGlOz8AQe

— まめ (@timicyo) October 6, 2015
リックドム娘時代のハマーン様過去絵でもいいですか #ドムの日 pic.twitter.com/v2mhvgxcFW

— umegrafix (@umegrafix) October 6, 2015
#ドムの日 #猫 pic.twitter.com/HNgQ3SskmI

— 花小金井正幸@リイドカフェで連載中! (@hanamasa_gt) October 6, 2015
---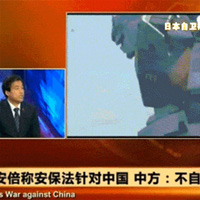 Related Stories:

– Gundam: Iron-Blooded Orphans to Stream… Everywhere
– China uses Gundam as evidence of Japanese Invasion Plans
– Real Life Giant Mecha Duel Planned between USA and Japan
– Gundam Creator Blasts Today's Voice Actors, Syd Mead