Ouran High School Host Club Manga
I'm thinking Ouran High School Host Club needs no introduction for this audience. I'd say most of you have either watched at least some of the anime, or read at least some of the manga, or both. I'd say a good number of you have probably watched all of the anime and read all of the manga, and possibly have passages memorized, or cosplayed as characters or written fanfiction or done fanart. You know who you are.
So I don't think I really need to describe the story much. But if you are new to the Ouran High School Host Club world, it kind of goes like this: a student on scholarship goes to a rich school, makes mistakes, and has to work at the host club in order to pay off debts. This student also happens to be a girl, even though hosts are supposed to be boys. (Another bit of important information: the hosts are all weird in their own, special ways.) This is followed by craziness, comedy, and outright spoofing of everything from shoujo manga to fangirls to romance itself. Needless to say, Host Club is a beloved fan favorite for its real-feeling (and often outrageous) characters and its spin on shoujo manga.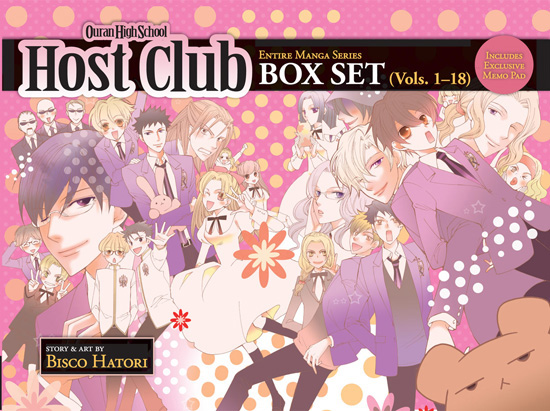 The manga version of Ouran High School Host Club spans eighteen volumes, and VIZ has put all of them together in a new box set. The box set is officially listed as $139.99 (though I see Barnes & Noble, Amazon and Right Stuf selling it for less). The price might make you hesitate at first, but if you want the whole series, this way is cheaper than buying the volumes individually. You also get some extras. VIZ throws in a pink-bordered memo pad with pictures of the characters on it, and places all the volumes plus the memo pad in a pink, illustrated box. There's even a handle attached to make sure it's easy for you to carry around.
If you already have the entire series, I don't know about spending so much money for a box and memo pad (no matter how cute they are). Still, if you've perhaps read the whole series of Host Club as library books and now want your own copies, this is definitely the way to go. You cut down on costs and get something extra. In fact, I'm starting to wish I could write this review on the memo pad… it's kind of difficult to resist its power.
Publisher: VIZ Media
Story & Art: Bisco Hatori