Our Favorite Tasty Treats from Restaurant to Another World (So Far)
Restaurant to Another World is about to serve up another delicious season! The light novel adaptation is opening its doors once again, presenting delicious Japanese dishes to fantasy world denizens. We can't wait to see what's on the menu next!
Until then, we're looking back at last season's glorious food. Everything served up looked amazing, but these dishes in particular caught our eye. Which ones were your favorites?
Tofu Steak
Even if you're a vegetarian, it's not always easy to make meatless dishes that hit the spot quite like their non-vegetarian counterparts. But Restaurant to Another World rose to the challenge with this tofu steak, made of one of its elven patrons.
When the elf Fardania couldn't find anything vegan on Nekoya's menu, the owner whipped this up for her. Tofu isn't a common food in the show's fantasy world, and isn't always appealing in our world. But when it's cooked up right, it adopts the flavors of whatever it's cooked with.
Minced Meat Cutlet
Restaurant to Another World isn't always about getting overly fancy. It can be… but it can also remind us of just how good simple dishes are. The minced meat cutlet in episode 2 not only looked gorgeous onscreen, it impressed a hungry treasure hunter.
The recipe requires ground beef, onion, and some seasonings. Once you've made up your beef patties, you bread them in panko and fry them up one by one. Sounds like a deep-friend hamburger, doesn't it? Well… yes and no. The concept is similar, but the texture is different. Either way, it was enough to wow Sarah Gold during her trip to Nagoya on the "Day of Satur."
Mixed Fruit Crepe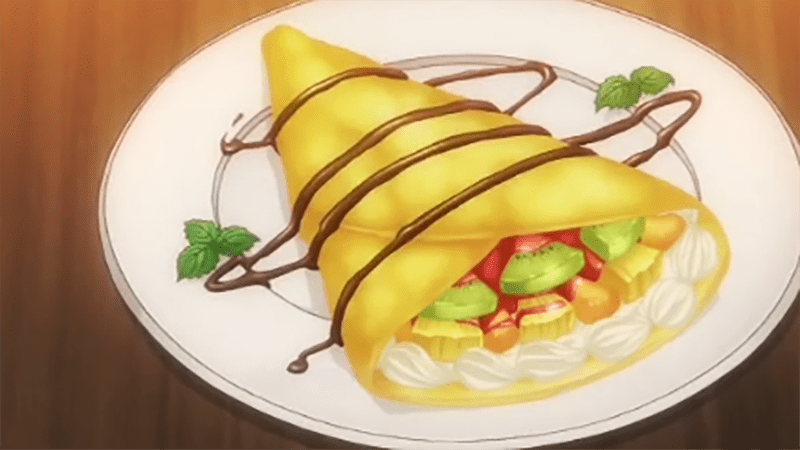 That's a lot of mains — but fortunately Restaurant to Another World takes time for dessert. In particular, there's this tasty-looking mixed fruit crepe. Crepes are (as you probably know) a big deal in Japan. You can also find crepe shops in some big cities — but if you've never had one, your first crepe tastes like it was made with some sort of fairy magic.
Of course, that's not the case… but the fey of the show really love Nekoya's fruit-based desserts. This crepe, filled with fruit and drizzled with chocolate, does look like it's fit for the Seelie court.
Restaurant to Another World starts its second season on October 2. Get ready for more gorgeous food when Nekoya re-opens its doors this fall!