On The Shelf – November 2, 2011
Happy (albeit slightly-belated) Halloween! Looks like it was a white one for many people along the East Coast. I hope everyone fared the storm well and that you had some tasty candy and good books to keep you company over the holiday weekend, whatever coast you're on.
Kodansha Comics is starting two new series this week. It's the second time both these series have been published in English and they're returning in omnibus format with new translations and shiny new covers. Love Hina is considered by many to be a modern-day manga classic. If you enjoy harem or romantic comedy stories and haven't read Love Hina, then this is your chance to read one of their pioneering titles. In volume one, you'll get the first 592 pages (huge book!) of college flunk-out Keitaro Urashima's adventures in being a caretaker in an all-girls dormitory.
While many of us are still basking in Sailor Moon, Kodansha is giving us another magical girl story to enjoy with Tokyo Mew Mew. When a young girl finds her DNA fused with that of an extinct cat, she's asked to become part of the Mew Project, which helps defend the planet from aliens. Four other girls join her and the five use their Mew Mew powers to transform into cute animal-themed outfits and battle evil, along with trying to get their crushes' attention and keep up their grades, of course.
KODANSHA COMICS
• Love Hina Omnibus (Vol.01), ($19.99/US, $22.99/CAN)
• Tokyo Mew Mew Omnibus (Vol.01), ($14.99/US, $16.99/CAN)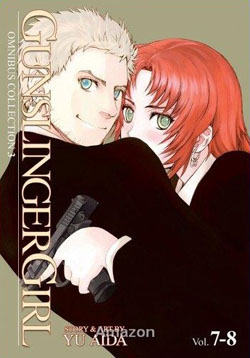 Seven Seas' omnibus offering this week is Gunslinger Girl (Vol.03). This book contains volumes seven and eight of the original series and is the first time these particular chapters have been published in English. Here a new character is introduced, a cyborg named Petrushka. It seems the agency is trying to prove just how skilled she is the hard way as her first mission, to stop an assassination attempt, may be more than she and her handler can survive.
SEVEN SEAS
• Gunslinger Girl Omnibus (Vol.03), ($16.99/US, $19.50/CAN)
• Toradora (Vol.03), ($11.99/US, $13.99/CAN)
Starting November strong with two heavy hitters this week is Vertical Inc. Easily earning my pick of the week is the long awaited Princess Knight (Vol.01). It's one of Osamu Tezuka's most well known titles and was a huge inspiration for many others over the years, helping lead manga to what we know it as today. The story is about Sapphire, a young woman who has been raised as both a princess and a prince to keep the country's rule away from those who would abuse its patriarchal monarch system. During birth however, a mishap with her soul's journey to Earth also granted her the soul of both a male and a female. Sapphire struggles against political take-overs, gender stereotypes and her own heart with determination, a dashing outfit and sharp sword skills.
No Longer Human (Vol.01) is a newly English published series by Usamaru Furuya whose work includes the memorable and disturbing Lychee Light Club. No Longer Human is another of his darker series and is based on a popular novel by Osamu Dazai. It's a bleak tale of a young man's spiral downwards from beloved class clown to suicidal, downtrodden shut-in, exploring his deepest thoughts and societal critiques along the way.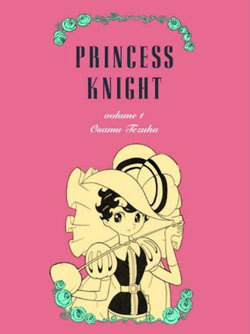 VERTICAL INC
• No Longer Human (Vol. 01), ($10.95/US, $11.95/CAN)
• Princess Knight (Vol. 01), ($13.95/US, $15.95/CAN)
If you're curious about this week's most expensive buy, that badge of honor goes to Viz Media's Fullmetal Alchemist box set. It's also one of the best deals you'll see in a while for brand-new-to-own volumes of one of the best manga series I've ever personally read. The box set includes all 27 volumes (meaning buyers of the set get the final volume a month early!) plus an FMA light novel and a full-color, double-sided poster. Fullmetal Alchemist follows two brothers whose failed attempt at bringing their late Mother back to life leaves devastating effects on their bodies as penance. They travel the country looking for ways to hone their alchemy skills to one day regain their bodies and eventually end up unravelling a mystery dating back generations that threatens the destruction of their world.
Another great action series out is Claymore (Vol. 19). It's a battle royale in this volume as Deneve and Helen continue to protect Clare from the focused Priscilla. Now two more warriors, Luciela and Rafaela, join the fray and it's a messy struggle to see if Deneve and Helen have what it takes to uphold their promise. The series is up to twenty volumes in Japan, the newest of which was just released this past week, so we've likely got a bit of a wait for the next book now that Viz Media is caught up.
The new volume of Oresama Teacher is my go-to for comedy on the list. It's a fun story about a girl who goes to a new school with the hope of starting fresh and leaving her delinquent gang-leader past behind her. No such luck, naturally! Soon she's wearing a ridiculous bunny mask and rescuing people while also struggling with a bizarre student/teacher relationship stemming back to her childhood. In this volume she's off to the beach for a day of fun but with aforementioned teacher, Takaomi, along for the ride, nothing is going to be as simple—or relaxing—as she'd wished.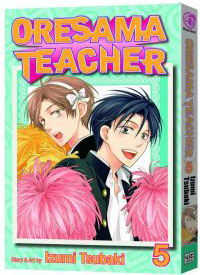 VIZ MEDIA
• Ai Ore! (Vol.03), ($12.99/US, $14.99/CAN)
• Black Bird (Vol.11), ($9.99/US, $12.99/CAN)
• Claymore (Vol.19), ($9.99/US, $12.99/CAN)
• D.Gray-man (Vol. 21), ($9.99/US, $12.99/CAN)
• Death Note: Black Editions (Vol.06), ($14.99/US, $16.99/CAN)
• Dengeki Daisy (Vol.07), ($9.99/US, $12.99/CAN)
• Fullmetal Alchemist (Complete Boxset), ($219.99/US, $219.99/CAN)
• Haruka: Beyond the Stream of Time (Vol. 14), ($9.99/US, $12.99/CAN)
• Kimi ni Todoke: From Me to You (Vol. 11), ($9.99/US, $12.99/CAN)
• Oresama Teacher (Vol.05), ($9.99/US, $12.99/CAN)
• Tegami Bachi (Vol. 07), ($9.99/US, $12.99/CAN)
• The Story of Saiunkoku (Vol. 05), ($9.99/US, $12.99/CAN)
• We Were There (Vol. 13), ($9.99/US, $12.99/CAN)
That does it for this week's On The Shelf—what on the list are you most eager to buy? Any must-have recommendations? Share your thoughts in our handy comment area for all our readers to see!
* All dates are based on distributor listings and may not necessarily reflect exact release dates. Some books may be ship prior to or after the date listed above varying by location and availability.