On The Shelf – February 20th, 2013
Dark Horse starts off the week by making up for the lack of book quantity with quantity of artists. In Neon Genesis Evangelion Comic Tribute, over a dozen creators contribute to this parody collection of Evangelion stories. While the strange scenarios and hilarious outcomes of the stories are entertaining on their own, it's all made that much more intriguing thanks to the talent behind them, including the creators of Loveless, Sgt. Frog and Excel Saga. I wasn't originally very interested in a collection of random stories for a series I only have middling interest in, but with a line-up like this book has, I'll now be keeping my eye out for this one and its amusing cover when I'm next in-store.
DARK HORSE
• Neon Genesis Evangelion Comic Tribute, ($10.99/US, $11.99/CAN)
It's Halloween come early for Kodansha Comics with their release of The Wallflower (Vol.30). When the haunted holiday hits, Sunako and her pretty-boy posse decide to host a party, but things are stirred up when Sunako dresses as a pirate in order to channel some thieving skills and get Oba-san's jewels back. And then things heat up between Sunako, Kyohei and Ranmaru, so it's time for a good ol' fashioned love triangle! It's not a shoujo story without at least one or two, right?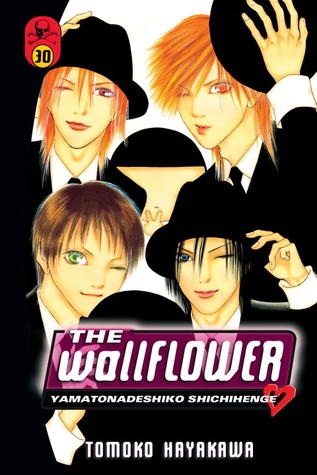 KODANSHA COMICS
• The Wallflower (Vol.30), ($10.99/US, $11.99/CAN)
We were introduced to a lot in the first omnibus collection of Dance in the Vampire Bund – the princess of vampires has set up a safe haven for vampires outside Tokyo with a school she herself attends as its core. When humans discovered that vampires exist it caused enough problems, but it's other vampires who are most unhappy with this development. Here in the second omnibus, which contains the original volumes 4-6, the vampire princess Mina Tepes must work alongside those she can trust to stop the other vampires from spoiling what they've built when their rivals start murdering humans on the mainland.
Fortunately, motives and means aren't as obvious in Lizzie Newton: Victorian Mysteries (Vol.02), much to the titular character's delight. When mysteries arise, novelist Lizzie Newton teams up with her "lawyer-turned-butler" Edwin White to solve them. I was initially drawn to this story by its detailed era-specific artwork (and it didn't disappoint), but this Korean shoujo also delivered mysteries with a sense of charm and adventure more endearing than many other crime-solving stories. I have high hopes that volume two is just as fun!
SEVEN SEAS
• Dance in the Vampire Bund Omnibus (Vol.02), ($19.99/US, $22.99/CAN)
• Lizzie Newton: Victorian Mysteries (Vol.02), ($11.99/US, $13.99/CAN)
That does it for this week's On The Shelf – what on the list are you most eager to buy? Any must-have recommendations? Share your thoughts in our handy comment area for all our readers to see!
* All dates are based on distributor listings and may not necessarily reflect exact release dates. Some books may ship prior to or after the date listed above varying by location and availability.