On The Shelf – December 5th, 2012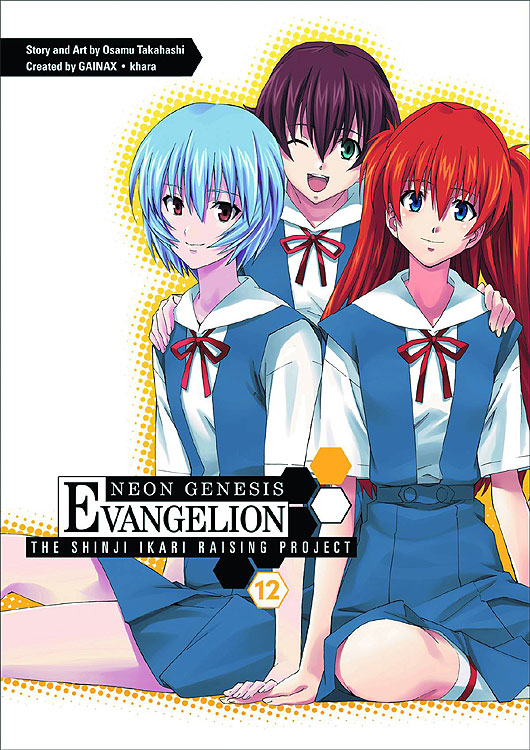 Happy December! Hard to believe it but here it is, the last month of 2012. What wonders await us in these final four weeks? Whatever they are, and whatever snow you may need to shovel through to reach them, week one is off to a great start.
Dark Horse is releasing another volume of their Neon Genesis Evangelion spin-off – Shinji Ikari Raising Project. Most often this series sets asides the mechs and trauma for school life and love triangles, but in this case things are looking a little more familiar when a giant eight sided contraption floats above the city with a menacing looking drill armed for destruction. Who's responsible for it and, perhaps more importantly, who's going to be able to stop it?
DARK HORSE
• NGE: Shinji Ikari Raising Project (Vol.12), ($9.99/US, $10.99/CAN)
A new month means another big shipping week for Viz Media, and all their books this time are pleasantly marked at the $9.99/US price point. It's a shoujo and shonen jamboree with fifteen new volumes for on-going series and volume one of a brand new romance.
Demon Love Spell is a new series by Mayu Shinjo, who is likely best known to English manga readers as the creator of Ai Ore! and Sensual Phrase. She mixes her affection for messy relationships with an interest in the supernatural to create this new story about a young shrine maiden who struggles with her duties as an exorcist. Her already confusing life changes dramatically when she meets an incubus-type demon named Kagura, a young man who feeds off the feelings of love and passion that women give off. To save her classmates, Miko casts a spell in attempts to seal away Kagura's abilities, and though she turns off his interest in the other girls, he's now completely attached to her. Mayu Shinjo's romances often err on the side of too twisted for me but I'm sure this combination of demonic desperation and teenage lust is bound to make this book a must-have on many readers' lists this week.
Meanwhile the same readers will likely be clamoring for Black Bird (Vol.15), another series that ties together the dark and dreamy to questionable but apparently quite addictive results. In this newest volume, Misao and Kyo are coming to terms with the death of an enemy yet the guilt lays too heavily on them for things to be all cherry blossoms and cuddles just yet. Things only get more worrisome when Misao starts displaying some unnatural powers of her own, ones she can't seem to control.
Demon stories seem to be a theme across many of the books from Viz Media this week, further evident as the protagonists of D. Gray Man learn some troublesome truths of their own. Allen Walker, always a bit of an anomaly, is now known to be one of the Noah demons. Is there now a possibility he could go over to their side?
Elsewhere, in a new volume of Devil & Her Love Song, there are no supernatural demons but still plenty of evil to confront in different kinds of devils. Kind-hearted but socially struggling Maria is forced to confront a painful past she's blocked out when her prior best friend, Anna, wields them as weapons in a bout to win over their mutual love-interest, Shin. A lot of ground was made with Maria's classmates in volume five so I hope she has their support during these trials of volume six.
Slam Dunk has reached its twenty-fifth volume and is the only other title out this week from Viz Media that crafts its drama from the world we know free of demons and magic. There's nothing wrong with those fantasy adventures, but there's definitely something to be said for stories like Slam Dunk which can make even the most uninterested sports fan white-knuckled in anticipation. Tensions are running high for the players as video research into their opponents paints a bleak picture for their chances of winning in the upcoming game. Still, strong coaching and a surprise set of moves might just be enough to leave the other sides' cheering crowd stunned.
In a final focused book this week, Yu-Gi-Oh Zexal mixes the magic of the cards with advanced technology of the future to pit duelists against each other in a no holds barred fight for the powerful Number cards. Young Yuma must now face the most determined duelists of all – the Number Hunters – in order to find a way to rescue his brother and work with the mysterious alien, Astral, to do it. It's not cheating, though, I swear … right?
VIZ MEDIA
• Arata the Legend, ($9.99/US, $12.99/CAN)
• Bakuman (Vol.17), ($9.99/US, $12.99/CAN)
• Black Bird (Vol.15), ($9.99/US, $12.99/CAN)
• Bleach (Vol.52), ($9.99/US, $12.99/CAN)
• Bleach (Vol.53), ($9.99/US, $12.99/CAN)
• D. Gray Man (Vol.23), ($9.99/US, $12.99/CAN)
• Dawn of the Arcana (Vol.07), ($9.99/US, $12.99/CAN)
• Demon Love Spell (Vol.01), ($9.99/US, $12.99/CAN)
• Devil & Her Love Song (Vol.06), ($9.99/US, $12.99/CAN)
• The Earl and the Fairy (Vol.04), ($9.99/US, $12.99/CAN)
• Natsume's Book of Friends (Vol.13), ($9.99/US, $12.99/CAN)
• Nura Rise of the Yokai Clan (Vol.12), ($9.99/US, $12.99/CAN)
• Sakura Hime: Legend of Princess Sakura (Vol.09), ($9.99/US, $12.99/CAN)
• Slam Dunk (Vol.25), ($9.99/US, $12.99/CAN)
• Toriko (Vol.13), ($9.99/US, $12.99/CAN)
• Yu-Gi-Oh Zexal (Vol.02), ($9.99/US, $12.99/CAN)
That does it for this week's On The Shelf – what on the list are you most eager to buy? Any must-have recommendations? Share your thoughts in our handy comment area for all our readers to see!
* All dates are based on distributor listings and may not necessarily reflect exact release dates. Some books may ship prior to or after the date listed above varying by location and availability.