New Poster, Trailer Reveal More of Godzilla Anime Design
Godzilla: Planet of the Monsters, the first anime film in the history of the Godzilla franchise, will stomp its way into theaters in Japan this November.
A new trailer and poster for the film have been revealed, and give us the clearest look so far at what Godzilla will look like in animated form.
Godzilla: Planet of the Monsters, animated by Polygon Pictures, is the first in a trilogy of CG-animated Godzilla films. It's directed by Kobun Shizuno and Hiroyuki Seshita with story and screenplay by Gen Urobuchi.
The story, according to the film's official website:
The planet is beset by the emergence of colossal creatures that roam the earth, and king among them is "Godzilla". For a half a century, these beasts engage in ferocious battle with each other and mankind. But humans, unable to compete, prepare for exile from their home planet. In the year 2048, a select few humans are chosen by the central government's artificial intelligence infrastructure to set out on an interstellar emigration vessel, the Aratrum, on an 11.9-lightyear journey for the planet Tau-e in the Cetus constellation. But when they arrive after 20 years of space travel, the remnants of mankind find the environmental conditions on Tau-e to be much different than expected, and basically uninhabitable by humans.


On youth on board the emigration vessel, Haruo, had seen his parents killed by Godzilla before his eyes when he was only 4 years old. Ever since, he has thought of nothing but returning to Earth to defeat Godzilla. With the doors to emigration now closed, Haruo and other crew spearhead a "return to Earth" decision despite severely attenuated and hazardous conditions on board for such a long trip back.
Somehow, the Aratrum makes the return journey in one piece, but the home they return to has become an alien planet. 20,000 years have elapsed, and a new ecosystem has emerged withatop the food chain. Can mankind take back its native planet? Will Haruo get his revenge?
The film opens November 17 in Japan and will stream worldwide on Netflix.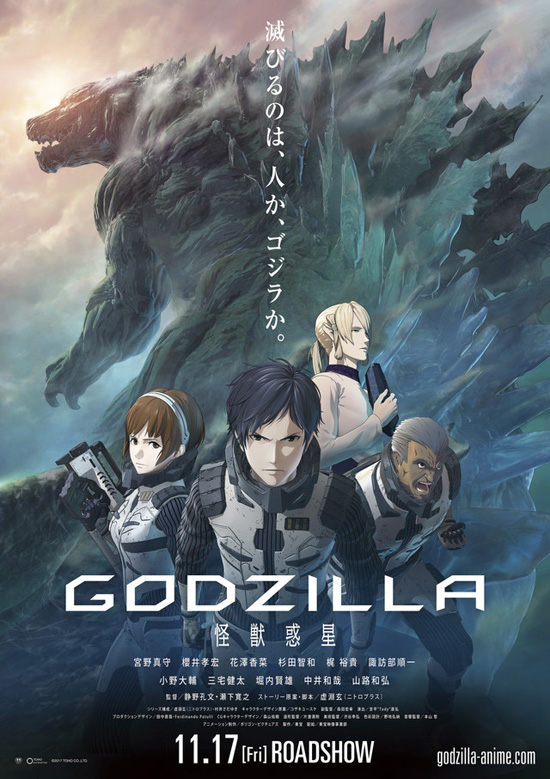 Source: ANN