Netflix Original A.I.C.O. Incarnation Trailer, Main Cast Revealed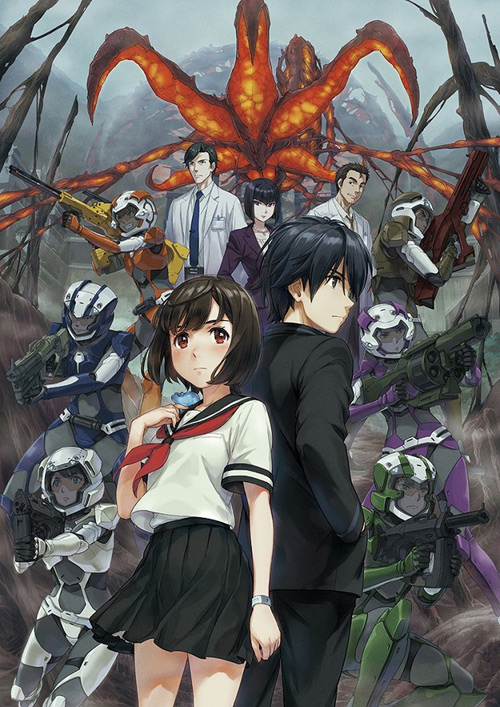 A.I.C.O. Incarnation, one of many original anime series out from Netflix this year, is on its way this March. Today we've got our first look at the BONES-animated series courtesy a new trailer, plus the cast lineup.
A.I.C.O., all 12 episodes of which hit Netflix March 9, is directed by Kazuya Murata (Gargantia on the Verdurous Planet) with series composition from Yuichi Nomura (Xam'd: Lost Memories). The main characters and their respective cast members are as follows:
Aiko Tachibana: Haruka Shiraishi
Yuya Kanzaki: Yusuke Kobayashi
Maho Shiraishi: Ai Kayano
Haruka Seri: Kaori Nazuka
Kaede Misawa: M.A.O.
Yoshihiko Sagami: Makoto Furukawa
Daisuke Shinoyama: Ryota Takeuchi
Kazuki Minase: Taishi Murata
Kyosuke Isazu: Takehito Koyasu
Susumu Kurose; Toru Okawa
Here's how Netflix describes the series:
In Japan in the year 2035, an accident known as the "Burst" occurs during a research project, spawning an out-of-control artificial life form called "Matter" that has spread throughout the Kurobe Gorge. The research city that was once hailed as the hope for humanity is cordoned off by the government. Two years later, 15-year-old Aiko Tachibana, who lost her family in the Burst, learns something unbelievable from Yuya Kanzaki, a new student at her school. A secret is hidden within her body, and the answer to the puzzle lies at the "Primary Point" that was the center of the Burst. When boy meets girl with the fate of humanity in their hands, what new truth will come to light?
Source: Anime Anime