Mary and the Witch's Flower English Dub Lands on Netflix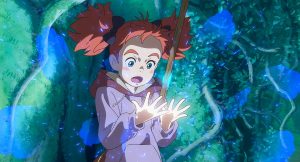 Did you miss your chance to check out Studio Ponoc and director Hiromasa Yonebayashi's Mary and the Witch's Flower anime film in theaters? Well, now you can make up for it (or watch it all over again) at home thanks to Netflix. The English dub is now on the streaming service in the United States, so have at it!
Mary and the Witch's Flower screened in the U.S. courtesy of GKIDS and Fathom Events back in January, with encore showings following in February. Here's the theatrical trailer for those who are unfamiliar with Ponoc's adaptation of Mary Stewart's The Little Broomstick book.
Here's how GKIDS describes Mary and the Witch's Flower:
"From Academy Award®-nominated Hiromasa Yonebayashi – animator on Studio Ghibli masterpieces Spirited Away, Howl's Moving Castle, and Ponyo, and director of When Marnie Was There and The Secret World of Arrietty – comes a dazzling new adventure about a young girl named Mary, who discovers a flower that grants magical powers, but only for one night.
Mary is an ordinary young girl stuck in the country with her Great-Aunt Charlotte and seemingly no adventures or friends in sight. She follows a mysterious cat into the nearby forest, where she discovers an old broomstick and the strange Fly-by-Night flower, a rare plant that blossoms only once every seven years and only in that forest. Together the flower and the broomstick whisk Mary above the clouds, and far away to Endor College – a school of magic run by headmistress Madam Mumblechook and the brilliant Doctor Dee. But there are terrible things happening at the school, and when Mary tells a lie, she must risk her life to try to set things right.
Based on Mary Stewart's 1971 classic children's book The Little Broomstick, Mary and The Witch's Flower is an action-packed film full of jaw-dropping imaginative worlds, ingenious characters, and the simple, heartfelt story of a young girl trying to find a place in the world. Featuring the voices of Ruby Barnhill and Academy Award®-winners Kate Winslet and Jim Broadbent."