Live-Action Terra Formars Gets Trashed in Advance Review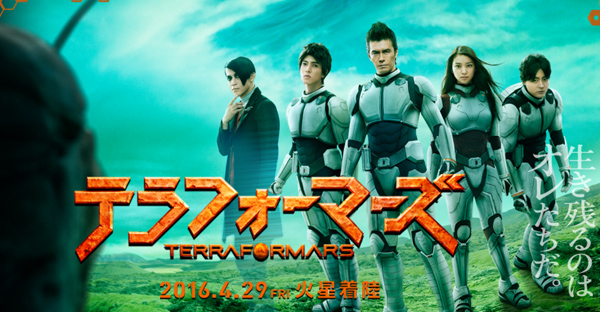 The first advance review for the live-action adaptation of Terra Formars, which opens Friday in Japan, is out, and it is not exactly glowing.
Critic Yuichi Maeda of the movie review site Chou Eiga Hihyou gave the film 5 out of a possible 100 points.
Maeda tweeted after seeing the film:
"I just saw an advance screening of Terra Formars. Oh my God. I'm pretty sure fans of the manga are all going to line up on one side of this thing. This has the possibility to cause more turmoil than the live-action Attack on Titan films. I'm astonished this happened under director [Takashi] Miike. I bet this thing is going to be the talk of the year."
「テラフォーマーズ」試写会 いやー…すごかった。確実に、原作ファンの評価は一方的になることでしょう。あの進撃騒動を上回る可能性すらある、大変なことになるよこれは…。三池監督ほどの人でもこうなってしまうのかと愕然としました。今年を代表する話題になると予想します。

— 映画批評家 前田有一 (@maedayuichi_) March 2, 2016
In his review, Maeda went on to say the film had "none of the appeal of the original manga" and that it needlessly changed too many elements of the original work.
It should be noted that Chou Eiga Hihyou's Maeda has somewhat of a reputation as a rabble-rouser. His review last year of the first live-action Attack on Titan movie, which he gave 40 out of 100, caused a brief controversy when director Shinji Higuchi tweeted: "who's the idiot who gave this guy an early release of the film?"
Terra Formars is directed by cult favorite Takashi Miike (Western Sukiyaki Django, Ichi the Killer) from a script by Kazuki Nakashima (Kill la Kill) and stars Hideaki Ito (Wood Job!) and Emi Takei (Rurouni Kenshin).
We'll have our own review of Terra Formars when it hits.
Source: Yaraon