Kyoto Animation Series Miss Kobayashi's Dragon Maid Trailer Hits
A lot of folks around Otaku USA HQ are big fans of Kyoto Animation, so we were excited to see the first trailer for their next series, Miss Kobayashi's Dragon Maid, hit the internet.
Miss Kobayashi's Dragon Maid, which premieres January 11, is based on a manga whose premise goes a little like this:
"Miss Kobayashi is your average office worker who lives a boring life, alone in her small apartment–until she saves the life of a female dragon in distress. The dragon, named Tohru, has the ability to magically transform into an adorable human girl (albeit with horns and a long tail!), who will do anything to pay off her debt of gratitude, whether Miss Kobayashi likes it or not. With a very persistent and amorous dragon as a roommate, nothing comes easy, and Miss Kobayashi's normal life is about to go off the deep end!"
That's according to Seven Seas, who are releasing the original manga by Coolkyoshinja (I Can't Understand What My Husband Is Saying!).
The series is directed by Yasuhiro Takemoto (The Disappearance of Haruhi Suzumiya) with series composition from Yuka Yamada (Bungaku Shojo Memoir) and stars:
Mutsumi Tamura as Kobayashi
Yūki Kuwahara as Tohru
Maria Naganawa as Kanna
Yuki Takada as Eruma
Minami Takahashi as Rukoa
Looking forward to see KyoAni doing some dragon maiding come January.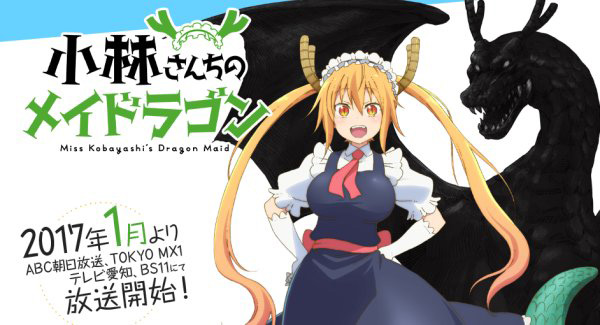 Source: Fandom Post