Kotoura-san Director Talks Difficulty of Adapting Manga and More
NIS America's The Troubled Life of Miss Kotoura Complete Premium Edition set is coming to North America on August 4, giving us the perfect opportunity to gather up some reader questions and send them over to the anime's director, Masahiko Ohta. See what he had to say about adapting the original manga, changes in anime production, and more!
How did you approach Kotoura-san, knowing that it was an ongoing manga, in order to get the right conclusion?
Just like it happened in the completed anime series, I wanted her to have a reconciliation with her mother. Since the original manga series was still ongoing at the time of production, there was the problem of whether or not the original creators would allow us to draw up our own conclusion in the anime. However, enokids-sensei willingly gave us the okay.
The anime started out with a dramatic and overly sad opening that eventually bridges into romance, comedy, and some sexual daydreams. How did you feel about showing that drastic transition?
We determined that the sadder the beginning, the more inclined the viewers would be to cheer on Kotoura-san on her path to happiness. I thought because there was a happy ending waiting for them, the viewers were able to bear such agony. My focus for this title was not to balance out the sad parts, fun parts, and perverted parts, but to double the effect of these elements. This is because I'm personally a big fan of shows that move me emotionally. I put all of these thoughts into making this show, and this is the result of it. 
Will there be a sequel to Kotoura-san?
If we could, I'd love to draw up her reconciliation with her father. And, with her little sister as well.
Is there an added layer of difficulty in adapting yonkoma [Ed. Note: Comic strip] manga, such as a special type of planning required in getting the comedic timing across in animation?
Though Kotoura-san does come in a yonkoma form, it's actually a story-based manga, so I didn't have to be too mindful in that respect. It's true that the overall feel of the show does change slightly when you take multiple yonkoma and connect them together to make a 30-minute show. Sometimes, it's inevitable that we must remove some of the jokes in order to maintain the natural flow. However, animation has its advantages, such as "movements" and "sounds." What's important is to fully utilize those advantages, creating a show that's attractive in its own right even though the content is the same as its manga counterpart. Depending on the show, there are also regular manga that come with various challenges when animating them. So I couldn't simply say that yonkoma is always more difficult to work on than regular manga.
Beyond Kotoura-san, what are some of your favorite anime productions you've worked on? 
I love all the shows. I can't compare them to each other.
You've been in the anime industry for a while now, so there's a nice breadth of experience to draw upon. How do you feel things have changed in anime production since the days of working as animation director on projects like Nadia: The Secret of Blue Water, and is there anything you find more, or less, troublesome now? 
The biggest change is digitization, which made some things easier, but some more troublesome because of how detailed the process became. Not needing to carry around heavy things like animation cels seem to have opened up more opportunities within the industry for women as well.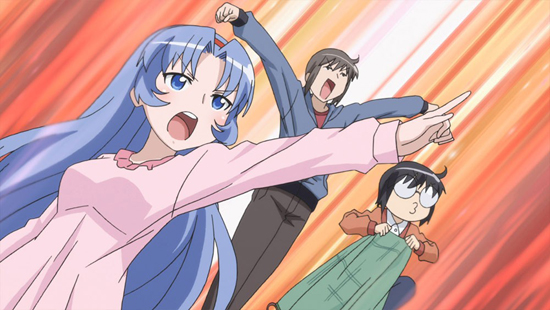 Do you prefer to handle storyboards on series that you also direct?
Of course. Drawing my own storyboards is the best way to directly convey my ideas to the viewers.
You may not have been part of your school's ESP Research Society, but what kind of clubs did you join in school? 
In high school, I was in the Film Research Club. I created live-action films and animation with 8mm film. Thanks to that, studying was out of the question for me…
What would you do if you were born with Haruka Kotoura's mind-reading powers?
I have a feeling I'd use it for a prank. No good, huh?