Kokuriko-zaka kara (From Up on Poppy Hill)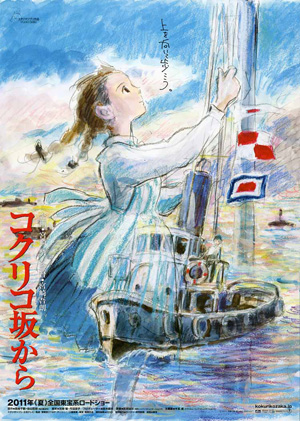 Goro Miyazaki has to be the unluckiest man in the anime industry. His legendary parentage aside,  no one could envy his position of having been promoted from landscape architect to suddenly   directing a movie based on an epic fantasy universe spanning a half-dozen books. That didn't stop the resulting film, 2006's Tales from Earthsea, from missing the mark, but all we can do is razz the movie and pat the director on the back while saying, "Maybe next time, kid" in our best Brooklyn accent. Apparently, the powers that be at Studio Ghibli also thought as much and so, after a five-year absence, have brought him back into the ring, this time tag-teaming with his old man Hayao Miyazaki for Kokuriko-zaka kara, or From Up on Poppy Hill.
As with last year's excellent Arrietty, Hayao relegates himself to planning and co-writing the script with Keiko Niwa, letting his son once again take seat in the director's chair, to the anxious (dare I say nervous) anticipation of filmgoers nationwide. Earthsea was the sad result of a young hungry filmmaker trying to prove his mettle in the heavyweight class and he could barely land a punch. It was only to be expected that that the son of Miyazaki would be given a second chance, but whether or not the kid could pull through remained to be seen.
The subtext of this father-son collaboration cannot be ignored by those who have followed or even been remotely aware of the tense relationship between the two Miyazakis. As the story goes, Goro took the directorial duties of Earthsea against the wishes of his father, leading the two to stop speaking to one another. If there is any positive result to be taken from that misfire, it was that it led to an apparent reconciliation, with the elder Miyazaki attending the premiere screening of his son's work and being one of the few to openly praise it. As if to completely bury that hatchet, the protagonist of 2009's Ponyo's was said to be inspired by Goro in his younger years, complete with telling references to a busy father unable to meet his son due to always being out at sea.
Loosely based on a 1980 manga of the same name, Kokuriko-zaka kara ostensibly tells the love story between Umi (Masami Nagasawa) and Shun (Junichi Okada). Umi, nicknamed "Mer" by her friends and family, is just a girl growing up along the coasts of 1963 Yokohama, always hoisting up signal flags for the passing boats in memory of her late father, perhaps in a deliberate continuation of the similar subplot in Ponyo. Shun, who often rides a small tugboat of his own, makes a point to answer the signal, our heroine knowing not to whom it belongs.
However, the wheels of le romance finally get turning when Shun decides to confess his love in the  most dramatic of ways, involving several loud banners, an even louder crowd of supporters, and a dive off the school's roof that predictably goes awry. At first, Umi spurns her aspiring suitor's advances as silly boys games, not realizing there might be something to it until she sees him give a stirring speech on keeping Quartier Latin, the school's dilapidated clubhouse, standing in the name of tradition while most students argue angrily that a changing new Japan needs new buildings. Making matters worse, their blossoming romance hits a huge obstacle when Umi learns something about Shun that perhaps only CLAMP would approve of.
Fans of Ghibli's more sedate works such as Only Yesterday, or even Arrietty, will feel right at home here, although this movie is perhaps a bit more outwardly melodramatic than either of those. The central relationship is more concretely defined and expressed, appropriate given that we're dealing with rambunctious high schoolers and not older adults nor sickly boys and faeries. However, this is a Japanese love story after all, so the kids mostly keep their hands off each other and expectations to hear "I love you" spoken will be in vain.
While the budding romance of the two protagonists is serviceable, the real star and the real story is the world of 1960s Japan herself. The roads are barely paved and the train lines are just being revitalized. Posters announcing the 1964 Tokyo Olympics are plastered everywhere and the opening of the Shinkansen bullet train is only a year away as the nation vigorously toils to shed the ashes of war and demonstrate itself as a reformed player on the world stage.
To wit, kids on shortwave radios excitedly make contact with American vessels in English and French-Japanese dictionaries adorn the desks and Umi's university professor mother is off in America for study. The air is filled with swanky jazz and period pop songs, most notably Kyu Sakamoto's "Ue o Muite Arukou" (better known as "Sukiyaki"), a Japanese international hit whose inclusion here is certainly no coincidence. This is a hopeful nation on the way to carving its identity while catching up with the big boys.
Thematic analysis aside, how does Goro fare his second time around in regards to creating a movie on its own merits? The idea to reel it way back to a smaller setting proves to be a wise one. The younger Miyazaki complements his father's writings with a much more careful hand than ventured in Earthsea. The narrative pace is meditative, never quite straying into boring but also not quite able to enrapture us in the characters' dilemmas.
Picking up the slack on that end are the visuals. To be sure, the movie doesn't toy much with camera tricks, preferring workmanlike static angles, but those shots are so crammed full of period details that they maintain interest and make one nostalgic for the era even if they never lived through it themselves.
As it stands, given its slow pace, niche material and director's bruised reputation, Kokuriko is bound to get overlooked as time wears on and, despite its flaws, that would be a shame. It's unlikely to ever be a classic, but it is a worthy addition to the Ghibli canon and a hell of a comeback for the maligned director. Here's hoping that he'll have a chance to truly knock it out on the third time around.
Fernando Ramos is a Japan correspondent for Otaku USA. His photography can be found at  www.mroutside.com.