Goro Miyazaki Models Ghibli Park Merchandise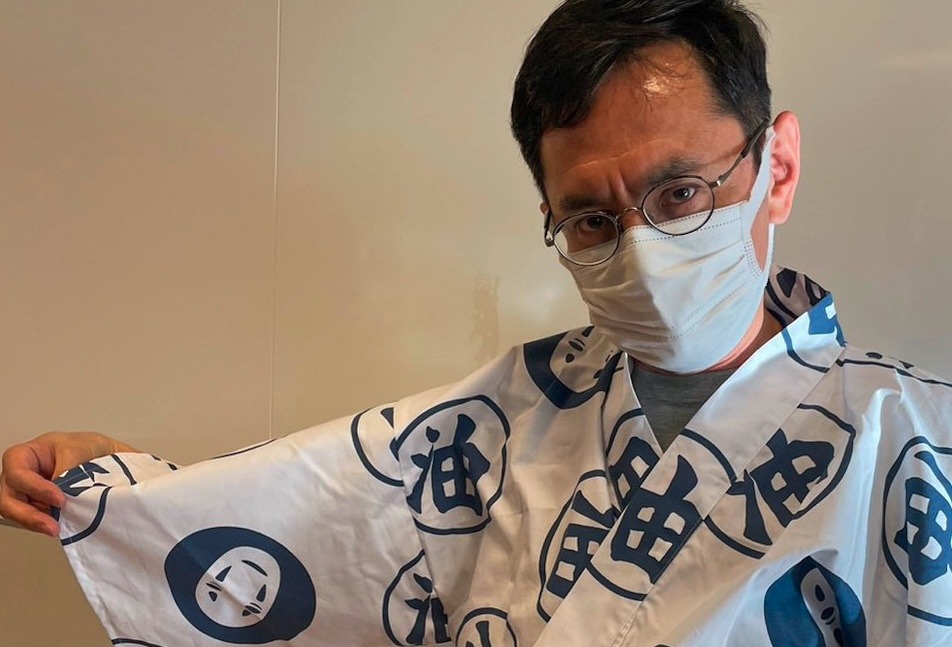 Studio Ghibli comes out with a lot of merchandise for its fans, and with Ghibli Park now open, you know they'll have to come up with more goodies so they can sell unique items at their shops. The official Twitter account for Ghibli Park shared these images of some upcoming merch with the line, "Currently in a very serious meeting about new products."
So what do we have here? Sharp eyes will spot the yukata from Spirited Away and the necklace from Princess Mononoke.
For extra help, someone put the yukata picture with an image from Spirited Away. They're not exactly the same, as the yukata the model is wearing also has images of No Face on it.
And who is the model? It's none other than Hayao Miyazaki's son, Goro Miyazaki, who is also the creative head of Ghibli Park planning.
This teasing tweet did not say when these will go on sale or how much they'll cost, but it seems they'll soon be at the park and available for purchase.
GKIDS gave this description for Spirited Away:
"Chihiro's family is moving to a new house, but when they stop on the way to explore an abandoned village, her parents undergo a mysterious transformation and Chihiro is whisked into a world of fantastic spirits ruled over by the sorceress Yubaba. Put to work in a magical bathhouse for spirits and demons, Chihiro must use all her wits to survive in this strange new place, find a way to free her parents and return to the normal world. Overflowing with imaginative creatures and thrilling storytelling, Spirited Away became a worldwide smash hit, and is one of the most critically-acclaimed films of all time."
GKIDS gave this description for Princess Mononoke:
"Inflicted with a deadly curse, the young warrior Ashitaka heads west in search of a cure. There, he stumbles into a bitter conflict between Lady Eboshi, the proud people of Iron Town, and the enigmatic Princess Mononoke, a young girl raised by wolves, who will stop at nothing to prevent the humans from destroying her home and the forest spirits and animal gods who live there. Featuring the voice talents of Gillian Anderson, Billy Crudup, Claire Danes, Jada Pinkett Smith, and Billy Bob Thornton."
Source: SoraNews24
____
Danica Davidson is the author of the bestselling Manga Art for Beginners with artist Melanie Westin, plus its sequel, Manga Art for Everyone, and the first-of-its-kind manga chalk book Chalk Art Manga, both illustrated by professional Japanese mangaka Rena Saiya. Check out her other comics and books at www.danicadavidson.com.