Knights of Sidonia Anime to Stream on Netflix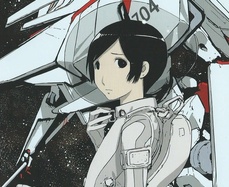 Netflix is making some moves to get in on more current anime with plans to stream Knights of Sidonia in summer 2014. The anime adaptation of Tsutomu Nihei's manga—published in North America by Vertical, Inc.—makes its debut in Japan next spring.
The official announcement from Netflix says the 12-episode series will run "first and exclusively" in all Netflix territories. The Polygon Pictures production will be available in both the original Japanese with subtitles and dubbed in "local language dialogue."
Knights of Sidonia follows an evolved humanity aboard a seed ship, evading and clashing against the massive alien Gauna with mechs. Kobun Shizuno (G.I. Joe: Sigma 6) directs with Hiroyuki Seshita, while Steamboy's Sadayuki Murai provides scripts. Ryota Ohsaka (Haruto in Valvrave the Liberator) voices lead Nagate Tanikaze, and Aya Suzaki (Mako in Kill la Kill) voices fellow Garde pilot and love interest Shizuka Hoshijiro.
© Tsutomu Nihei, Kodansha/KOS Production Committee
Update 7/9/14: The show is out, so click here to read our full Knights of Sidonia review.