Kiss Me at the Stroke of Midnight [Manga Review]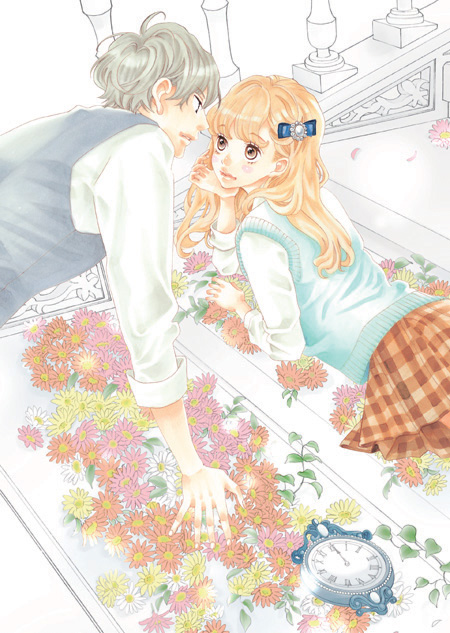 Cinderella gets a modern makeover in this light-hearted romantic comedy. The title may be a mouthful, but the plot is fast and amusing.
Hinana lives her life by the clock. Every day she gets up at the same time and follows the same routine, morning to night. Everyone around her thinks of her as a smart and serious high school girl, but Hinana is hiding a secret love of romance. Her one desire is for a fairy tale romance with a hot prince. On her off days she haunts an out-of-the-way movie theater and immerses herself in the classics like Roman Holiday.
One day her chance to meet a real live prince arrives. The idol Kaede, fresh from breaking up with his band, is filming a movie at Hinana's school and it only takes a little prodding for Hinana to volunteer as an extra. The gorgeous Kaede is everything Hinana hoped for … until she actually meets him. It turns out her celebrity crush has feet of clay and a butt fetish worthy of Tina Belcher. Despite his flaws, Hinana also sees someone genuinely interested in filmmaking and serious about his craft. After a misunderstanding with Kaede's manager, Hinana is banished from the production and she thinks her fairy tale is over. But things are just getting started.
Mikimoto's art is really sweet and beautifully polished. The characters are delightfully expressive even if the chibis hover somewhere over the uncanny valley. The refined artwork is accompanied by capable storytelling and a sardonic sense of humor. The first volume is packed with twists and turns, most of which are pretty predictable, but the characters' charm carries the story. Inspired by an experience Mikimoto had when one of her own manga was turned into a movie, this is both a modern-day Cinderella story and an exploration of the idea that while celebrities may be beautiful, they are also human beings like the rest of us. It's a lot to put in a manga without coming off as cheesy but Mikimoto accomplishes it with skill and finesse. The secondary characters aren't as strong as the main pair, but despite this, Kiss Me at the Stroke of Midnight is a cute romantic romp promising some good laughs and, hopefully, the happy ending of Hinana's dreams.
publisher: Kodansha Comics
story and art: Rin Mikimoto
rating: 13+
This story appears in the December 2017 issue of Otaku USA Magazine. Click here to get a print copy.