Just Look At This Koji Morimoto-Animated Lupin III Opening
Koji Morimoto. If you don't know the name, well, you probably should. One of Japan's premier animators, Morimoto is the director of shorts like The Animatrix's "Beyond," Memories' "Magnetic Rose" and Noiseman Sound Insect, and key animator on dozens of brilliantly-animated films and shorts.
Point is, when we hear Morimoto's animated something new, we sit up and pay attention.
This time around, Morimoto has directed the opening sequence for January 8's Lupin III: Italian Game SP TV special.
Key animators involved included Osamu Kobayashi (Beck: Mongolian Chop Squad), Hiroyuki Okiura (A Letter to Momo) and illustrator Hisashi Eguchi. That's an animation dream team if there were was one.
Kobayashi also directed an episode of the currently-airing Lupin series.
One of Japan's greatest animators in charge of the opening of one of anime's finest properties? Color us happy.
Bonus: Morimoto's opening for Dirty Pair: Project Eden (1986)
Source: Catsuka
---
Related Stories:

So, Which Lupin the Third Anime Should You Watch Next?
A starter kit for following everyone's favorite thief
As I sit down to write this, the latest James Bond movie, Skyfall, is currently playing in movie theaters worldwide, and a lot of people who enjoyed that…

New Lupin the Third Anime Opening Showcased
Series premieres in Japan October 1
The new Lupin the Third anime series is about to make its Japanese premiere on October 1, so Cinema Today shared the opening movie that features the latest…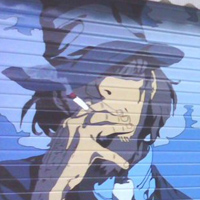 Lupin's Jigen Street Art Appears Around Italy
Someone's sure excited about the new series
Daisuke Jigen, partner-in-crime to Lupin the Third, subject of last year's Daisuke Jigen's Gravestone and recent winner of a poll ranking anime's coolest old guys…