INTERVIEW: Samuel Sattin Talks The Essential Anime Guide and A Kid's Guide to Anime & Manga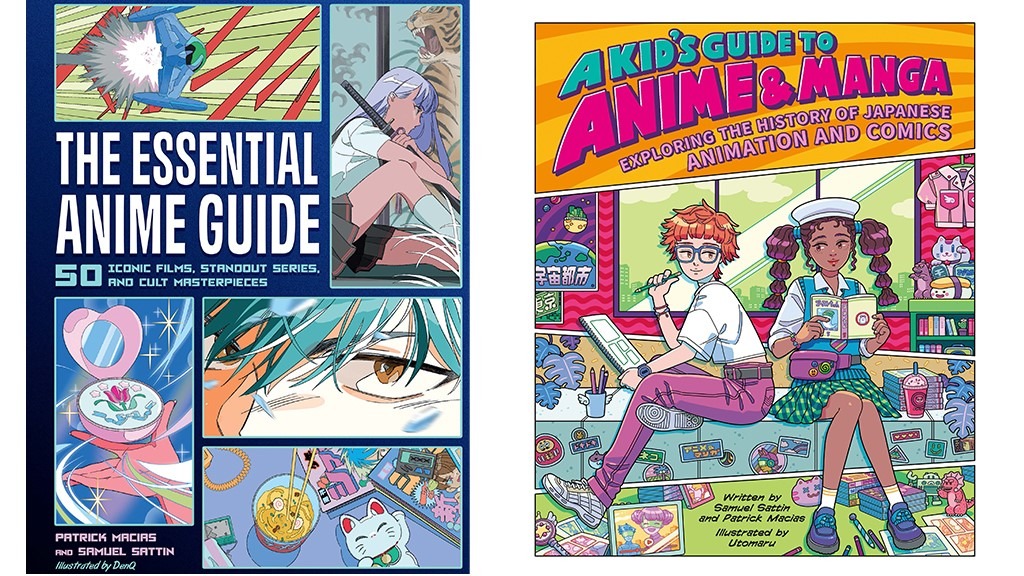 Disclosure: Co-author Patrick Macias is Editor-in-Chief of Otaku USA magazine.
Otaku USA Magazine editor-in-chief Patrick Macias teamed up with writer Samuel Sattin to write two new books about anime and manga: The Essential Anime Guide: 50 Iconic Films, Standout Series, and Cult Masterpieces, and A Kid's Guide to Anime & Manga: Exploring the History of Japanese Animation and Comics, both published by Running Press. The Essential Anime Guide has hit bookshelves everywhere, and A Kid's Guide to Anime & Manga is scheduled to come out November 21. Sattin spoke to Otaku USA about the books, his background as a fan, and his future work bringing Osamu Tezuka's Unico back to life.
Tell us about your books.
They're both tackling a similar subject matter. They're looking at anime in particular, and in the case of the kids' book, manga as well. With The Essential Guide, Patrick came to me with the project a couple years ago and I knew he was on a tight deadline for it. So he asked me to come on board and help facilitate the project. We ended up having a very short amount of time to write about a lot of our favorite anime series and films. So I ended up choosing half and he ended up choosing half. We ended up getting some really great guest essayists. It became a really cool, idiosyncratic book where people got to unleash what they knew about these anime classics.
The other book, a Kid's Guide to Anime and Manga, is really an introductory text helping younger readers figure out where to start. We give them a brief history of the mediums and also peppering the book with really cool interviews with professionals in the industry. It's for kids who are curious to get some more resources for how they can expand their excitement and involvement in the culture.
Who's the ideal audience for the adult book?
It's being put out by Running Press, which does a lot of books that are kind of nonfiction, kind of geek-oriented, coffee table books and general reader books. This one was a way to try to get people who are either curious about anime or who are already interested in it to pick up and have a read on some of the things we discovered about different titles. We did a lot of research for the book, even though we had already viewed all the titles for the guide already. We did a lot of research on what made them what they are, did a lot of deep digging, kind of rounded out historical information with the reasons why we aesthetically chose each thing that we chose. We even put a little criticism in parts of the series if we thought it needed some. It can also serve as an introductory text for older readers who want to get into anime, while also satisfying people who already know a lot about it.
What's your background with anime and manga?
Pretty much just as a fan. I grew up in the 90s, I was born in 1982. My first exposure to it was probably around 12 or 13. I was watching Akira and Fist of the North Star. I really got into everything I could find. That's how I started, as a pure fan.
Manga wasn't as available to me in that time period as it is now. Now it's everywhere. I grew up in Colorado in the 90s, there wasn't much to access. I got into manga more in college, where I started to read a lot more of it, had a lot more access to it. I became very self-taught [laughs]. I began to make more friends and acquaintances in manga circles. Also, I got into comics heavily. I write comics and I write fiction. So I think that also helped strengthen those bonds in the anime and manga community.
I interviewed you last year for Unico on Kickstarter. Can you update us on what's going on?
Yes, yes, yes! Some folks may have heard, but Unico is now Unico: Awakening, which is a reimagining of the original 1976 manga from Osamu Tezuka. It'ss going to be released from Scholastic in a multiple-book series, which is really great news for, I think, everyone. It's written by me and drawn by the artist team Gurihiru. They're based out of Saitoma, Japan and they're incredibly talented and they work in both American and Japanese media. You can look forward to a lot more Unico: Awakening to land on the bookshelves in the future. We're also going to have activity books and world-building books. It's incredibly exciting.
Where can people find out more about you and your work?
You can go to www.samuelsattin.com, where I have updates about what's happening professionally and also I'll be updating it with an appearances page eventually as well, so any future appearances can be logged there.
Image Credits:
Essential Anime
Illustrator: DenQ
Designer: Justine Kelley
Kid's Guide
Illustrator: Utomaru
Designer: Mary Boyer
____
Danica Davidson is the author of the bestselling Manga Art for Beginners with artist Melanie Westin, plus its sequel, Manga Art for Everyone, and the first-of-its-kind manga chalk book Chalk Art Manga, both illustrated by professional Japanese mangaka Rena Saiya. Check out her other comics and books at www.danicadavidson.com.