Industry Figures from Adult Swim, Sentai, Production I.G Talk "Hollywood's New Anime Gold Rush"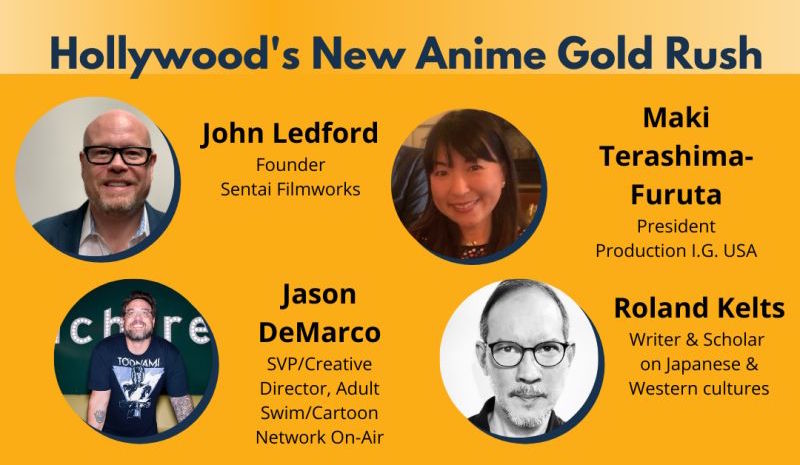 The Asia Society Southern California has made its virtual panel "Hollywood's New Anime Gold Rush" available to watch on YouTube. The panel consists of founder and CEO of Sentai Filmworks John Ledford, president of Production I.G USA Maki Terashima-Furuta, and senior vice president/creative director of Adult Swim/Cartoon Network On-Air Jason DeMarco. It was moderated by Roland Kelts, author of Japanamerica.
During a discussion on Hollywood remakes of anime, DeMarco said, "I'm agnostic to the remakes. I think there haven't really been too many successful ones. . . But I don't think people shouldn't try. . . Comic book movies didn't become the dominant force that they are until people who really understood those characters and their appeal as comic lovers were able to get behind the reins and make these movies that stay true to these characters. It's the same with anime. . .You can't just love the anime. You have to understand how anime works, you know what I mean? And there's also cultural considerations that even add complexity."
"Anime comes from manga, but both anime and manga have a kind of soul or spirit to it," said Ledford. "You can get some of the best spreadsheet jockeys and analysts on earth outside of Japan to analyze the cuts and the sequence and the characters and how anime looks, and copy it. But can you really copy the soul and essence of the passion of the creators, looking through the lens of the Japanese person who is making this work? And I don't think you really can. You can probably come close. And you can probably fool the mass public. But true anime fans will always know the difference between real anime and something that's a little different."
"Co-productions are great," said Terashima-Furuta about companies outside of Japan producing anime. "Ironically enough, Japanese anime studios are poor. We need the money. Just within domestic funding, it is impossible to make an anime. That's why we're getting a lot of financial help from Netflix, Adult Swim, Sentai, everywhere. In order to sustain the industry and sustain the culture of Japanese animation, we need all the help we can get."
"The enthusiasm, the passion, and the diversity [of anime] is really already built into the industry in Japan," Kelts said. "It's a matter of sort of spreading that around the world."
Tune in to the discussion and let us know your thoughts!
____
Danica Davidson is the author of the bestselling Manga Art for Beginners with artist Melanie Westin, and its sequel, Manga Art for Intermediates, with professional Japanese mangaka Rena Saiya. Check out her other comics and books at www.danicadavidson.com.