Hands-On: Punchin' Away with One Piece & JoJo's Bizarre Adventure
Last week I got the chance to head over to Bandai Namco's new HQ in Santa Clara, CA to try out a bunch of upcoming games, including a nice helping of anime-based action. In addition to Gundam and SAO games—Mobile Suit Gundam: Extreme VS. Force and Sword Art Online: Hollow Realization—that I unfortunately didn't get a chance to check out, both One Piece: Burning Blood and JoJo's Bizarre Adventure: Eyes of Heaven were on display. I had enough hands-on time with each to deal out some quick impressions, starting with the three-on-three action of Burning Blood.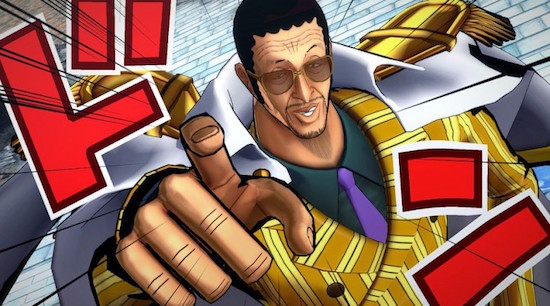 Technically One Piece: Burning Blood just pits one player against the computer or another player, but you can choose three main characters and a few support characters to hop in and help on command. The playable roster was pretty limited at the showcase, but it offered a solid idea of how Burning Blood plays. The end results are just over-the-top enough to make you want to come back for multiple rounds, as Luffy, Franky, Sanji, Bartolomeo, and more of Oda's wild cast bust out all their classic moves against one another.
Playing two-player split-screen was plenty fun and hectic, especially whenever a winning hit would send your opponent careening into the background and blowing up the scenery in bombastic shonen fashion. I think most who tried it out that day would agree that the real highlight was seeing and playing as Gear Fourth Luffy, who lumbered around the stage like a wild elephant and hit just as hard as you'd expect. 
One Piece: Burning Blood was definitely a game I needed to play, because even with all the media building up to it over the past year, I've had a hard time deciphering its hook. It doesn't help that it comes hot on the heels of the One Piece: Pirate Warriors beat 'em ups, making its play style even more of a mystery. Now I see that, at this point at least, it appears to be a solid 3D fighting game that should please fans of the anime with its faithful visuals, dead-on character interactions, and SUPERRRR special moves. The roster is a little lacking at the moment, but hopefully they'll be adding people down the line.
Next up I got a handful of rounds in with JoJo's Bizarre Adventure: Eyes of Heaven, which is another game I needed to play for myself to fully grasp. Those who played 2013's All-Star Battle will be in for something very different here, as Eyes of Heaven is a full arena fighter that I'd say is closer to Power Stone but without the multiplayer party game vibe. Just think of each manga and anime-derived area as a fully-open arena with some environmental gimmicks and you've got a good idea of what the heroes and villains of Hirohiko Araki's series are dealing with this time around.
On the opposite end of the spectrum to Burning Blood, Eyes of Heaven's roster is absolutely loaded. You'll be able to create dream duos from pretty much every era-spanning leg of Araki's journey. Or you can completely mix things up and team Jonathan Joestar with Jotaro Kujo, or have Rohan Kishibe turn people into open books alongside the six-shooter stylings of Hol Horse, and so on.
The fights themselves can be tough! I think I ended up winning one match against the computer that day. These showdowns are often a war of attrition as you attempt to whittle away at multiple life bar levels of each enemy. The only time it really turned into frustration, though, was when it seemed as if my ally wasn't doing any of the heavy lifting. The partner AI leaves something to be desired in this one, but the presentation makes up for some of the shortcomings. Manga-style panels pop up on screen during special moves and moments, and combination attacks are as stylish as can be. 
There were a handful of stages to sample, but the most interesting ones all had their own unique gimmick. One arena had a massive pit of spikes that served up the perfect opportunity for major damage (more often than not to my own team), and the nightmare world from Stardust Crusaders has its own roaming hazard in the form of Death Thirteen. My greatest mistake was trying to mimic JoJo's Bizarre Adventure's strange penchant for animal cruelty. I decided to pit my team against the terrible twosome of Iggy and Pet Shop, who, for the uninitiated, are a small Boston Terrier and a falcon, respectively. Things I didn't take into account included but were not limited to A) the difficulty of landing hits on both a small ground-based enemy and his flying partner, and B) the fact that they're both powerful in their own weird ways. Needless to say, this was one of my more spectacular defeats. 
JoJo's Bizarre Adventure: Eyes of Heaven is as weird as its source material, and fans of Araki's series will find a lot to like about it. Control-wise it's a little all over the place, and fights can be frustrating more often than not, but I'm interested enough to want to get my hands on the full version. 
Out of the two main anime games on display, I'd say I'm more likely to enjoy Eyes of Heaven over Burning Blood. It's ultimately going to come down to which series you're more drawn toward, but both show promise. JoJo's Bizarre Adventure: Eyes of Heaven hits PlayStation 4 in the Americas on June 28. One Piece: Burning Blood lands on PlayStation 4, Xbox One, and PS Vita in North America on May 31, followed by Europe on June 3. A PC version is also set to arrive sometime in June. 
---
Disclosure: Bandai Namco Entertainment flew me and other journalists to San Francisco last week to visit their new offices and try out their upcoming lineup of games. Thus, games were played and chicken & waffles were eaten.